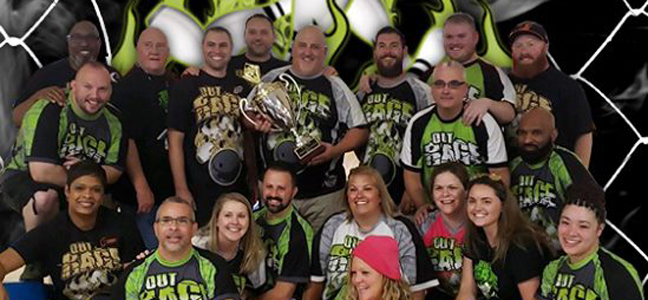 More notes before we start:
Style points count. You'll see that down the list.
Just a reminder, I'm a 'What have you done for me lately' guy, so a team that did great last year but is bowling like dishwater now is not going to be on this list.
If you're not in a play-off spot in your district. You're not making the list.
While #1 is Tour Stop Play, Team Rankings / WCS / Tournament Results DO count here, because if they do well and a team uses these people in a UBA Tour Stop, then there's no reason why not to think they will be just as good at a tour stop as they are in a tournament, etc.
Keep in mind that with over 200 teams competing this season, this list represents less than the top 25% of the UBA. If you're on here, consider that some kudos.
This is for fun. Don't get salty, get motivated.
I love all feedback, so keep it coming 🙂
So here we go with this week's rankings….
CURRENT PLAY NOTE: Completion of League Tour Regular Season
Outrage (392-128 / 1st, DMV North) (Was 1)
Yes, in order to be the champs you have to beat the champs is blase, but all so true.
Hitmen (418-102 / 1st, Capital) (Was 2)
They have the most amount of points in the regular season – and an undefeated one at that. Great job.
High Octane (404-116 / 1st, Sandhills) (Was 5)
Your eyes haven't deceived you. High Octane went 80-0 during their last 2 tour stops.
AC Express (393-127 / 1st, NJ South) (Was 4)
One of the teams in the running for Most Improved Team of the Season – but – can they get out of the playoffs against teams that are loaded against them, as they won't be surprising anyone?
Team Matrix (342-178 / 1st, NJ Shore) (Was 7)
Starting to look very strong against an all of a sudden more pedestrian-looking NJ Shore District.
The Arsenal (388-132 / 1st, NJ Northeast) (Was 8)
Finished the season on a 100-20 tear. Looking very dangerous going into the playoffs.
BC Crew (336-184 / 2nd, Long Island) (Was 9)
Would have won the LI District if they didn't get sloppy mid-season.
DC Mafia (356-164 / 1st, DMV South) (Was 12)
So it wasn't a win, but it wasn't a loss either. Huge steps taken from them this season.
New England Heat (358-162 / 1st, New England South) (Was 15)
Won their district in 12 and have dominated for the whole season.
Da Garden Foundation (324-196 / 1st, NJ Northwest) (Was 10)
They got what they needed to win the NJNW, BUT I don't reward the teams for losing. If anyone brings up the argument for 'well they weren't really trying', their scratch team went into way too many brackets for that to hold water. And if they average 180 on the scratch squad again in Lodi like they did at Hudson, they will be out the door Round 1.
Identity Crisis (337-143 / 1st, NE North) (Was 13)
Found their identity near the end of the season.
Conspiracy Theory (370-150 / 1st, Queen City) (Was 3)
Yeah it didn't matter, but you can't be losing to the last placed team in your district and expect to stay in the Top Ten. And if you use the excuse of you didn't put in your A team then I will counter with 'well, it shows you could have some depth issues'.
All In! (351-169 / 1st, PA North) (Was 40)
As much fun as it is to beat up on Jonathan Dansbury, let's give credit to where it's due – they went 108-12 in the last 3 tour stops to win the district and Troy Gafgen is still the Cruiserweight Champion. This season was huge in terms of growth and they could be very dangerous in the Playoffs.
G.O.A.T. (333-187 / 1st, Triad) (Was 6)
Despite winning their district, that loss to Sub-Zero – who they could be facing this weekend – probably doesn't feel too good.
Sub-Zero (312-208 / 2nd, Triad) (Was 21)
Would have been interesting to see what would have happened if there was one more position round.
Lightz Out (349-171 / 1st, Brooklyn/Queens) (Was 16)
Bowled like a team that only needed 1 point to clinch their district and somehow got the other 7 points by luck.
Murder Inc. (299-221 / 2nd, NJ Northwest) (Was 23)
Whether they won because they were finally the better team or because DGF was God-awful, it doesn't matter – they won and they are going up against a team that they shellacked 34-6 during the regular season.
Impact (355-125 / 2nd, DMV North) (Was 18)
Didn't play.
Spartanberg Savages (347-173 / 1st, Deep South) (Was 20)
Sure, they should be happy against the bad team they beat 38-2, but the good team that they just lost to before-hand that they could be seeing in a few rounds should give them cause for concern.
King's Court (296-214 / 2nd, Queen City) (Was 27)
Started 6-74 and then won their next 11 matches to finish in second in the QC. Message to the rest of the UBA: Never give up.
Royal Flush (356-164 / 1st, Long Island) (Was 17)
Didn't need to win against BC Crew to take the district. They will need to win the next time they play each other.
Reality Check (334-146 / 1st, Inner Coastal) (Was 22)
Didn't play but hopefully they will be fired up due to their last ugly performance.
Rival Alliance (328-192 / 1st, PA South) (Was 31)
Well-deserved win to take the PA South – though we all know we want to see another tussle between them and The Usual Suspects
Usual Suspects (320-200 / 2nd, PA South) (Was 11)
Speaking of which….
NJ Drillers (325-195 / 3rd, NJ Shore) (Was 32)
They released the Krakens from the Playoff Chase. Can they get back to making a deep playoff run?
Legacy (343-177 / 2nd, NJ Northeast) (Was 14)
Despite the loss to Arsenal, they looked very good. If they play Arsenal again at Lodi, it will be classic.
Magna Carta (325-195 / 2nd, DMV South) (Was 33)
The split gets them up against Most Wanted in the Playoffs, and more importantly, away from DC Mafia in Round 1 – though maybe they think they can beat them.
Apocalypse (318-122 / 1st, Bronx) (Was 19)
The 318 is the lowest amount of points by a district winner this season.
Hot Pockets (313-207 / 3rd, DMV North) (Was 35)
Nice win to tune up, going into the playoffs.
Pocket Kingz (299-221 / 3rd, NJ Northwest) (Was 42)
I'll be honest – I thought they would be toast against X-It Woundz, but they won. Against Murder Inc at Lodi, who will be hearing the sound by Dan from Mortal Kombat?
Project Mayhem (323-197 / 3rd, Long Island) (Was 36)
A number of things happened than ended Killer Gripz' season. Project Mayhem defeating them 32-8 was one of them.
X-It Woundz (280-240 / 4th, NJ Northwest) (Was 24)
They lost and dropped to 4th, which means they get DGF round 1. However, this is the same squad that ended DGF's championship winning run – and the match is at Lodi. Upset special?
Philly Horsemen (313-207 / 1st, PA North) (was 25)
They are hoping that someone else is able to knock off All In! because they haven't been able to do it.
The Franchise (333-187 / 2nd, Brooklyn/Queens) (Was 39)
Huge win in the B/Q to get them into second and maybe send a little message to Lightz Out.
Bulletproof (328-192 / 2nd, NJ South) (Was 30)
Did enough to finish in second, but not a good draw for them coming into the Playoffs.
Train Wreck

(307-193 / 3rd, NJ Shore) (Was 40)


This is a really nice season for Train Wreck, but boy, I bet they would have wanted just one more game.
Most Wanted (317-203 / 2nd, DMV South) (Was 34)
They lost, but they won enough points so they don't see DC Mafia in the first round of the play-offs, though if they bowl like they did last tour stop, then it won't really matter who they bowl against.
Disorderly Conduct (287-233 / 3rd, Triad) (Was 27)
Going 34-86 for the past 3 tour stops is a really good definition of limping into the playoffs.
The Watchmen (310-210 / 3rd, Inner Coastal) (Was 45)
Winners of 3 out of their last 4.
Secret Society (310-210 / 3rd, PA South) (Was 46)
Very sneaky team that seems to have it going on all cylinders. Would not shock me if this is the team that came out of the PA South.
Silver Lanes Express (314-206 / 2nd, New England South) (Was 48)
Maybe the NE South doesn't get much respect. Regardless, they had a really nice regular season.
Class aXe (330-190 / 3rd NJ Northeast) (Was 49)
Righted the ship at the correct time. Still has to get past a Legacy team that they recently lost to.
Latino All-Stars (305-215 /4th, NJ Northeast) (Was 28)
Hi there, team that just lost to Class aXe 34-6 and now has to play Arsenal at Lodi. How's it going?
The Replacements

(308-212 / 2nd, NJ Shore) (Was 30)


If they play this weekend like they did on the last tour stop, they can order a quick doggie bag because they won't be there for too long.
Rollin' Rebels (300-220 / 4th, Sandhills) (Was 37)
Going 22-58 for the past 2 tour stops drops them from 2nd to 4th in their district and gives them a date with High Octane. Swipe right.
Motion 2 Strike (298-222 / 3rd, Inner Coastal) (Was 38)
Going 24-56 for the past 2 tour stops isn't much better.
Voodoo (292-228 / 3rd, PA North) (Was 43)
What about 10-70 for the past 2 tour stops?
High Powered (304-216 / 4th, DMV South) (NEW)
I figured you should get some kudos here for the nice season. Yay!
Silent Killerz (312-208 / 3rd, Brooklyn/Queens) (NEW)
In a topsy-turvy season, they finished on the correct side of the board.
Absolute Chaos (323-197 / 4th, NJ South) (NEW)
They are the embodiment of chaos. Right now, that's a good thing.
NEXT 5 In: Reloaded, Tom's River Rats, The Militia, Pre-emptive Strike, Complete Anarchy
OUT: Wrecking Crew, The M.O.B., Killerz Grip