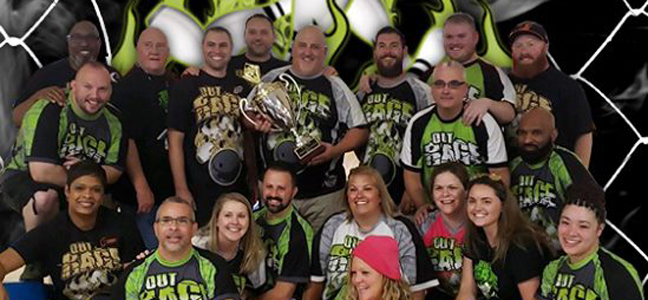 Welcome to the Top 50! This is the part where you're really happy, or – and this is the usual response – you wish to get motivated. Just a reminder – three of the 4 semi-finalists had the #1 at some point of the year (and the other one got to #5) so I sort of know what I'm talking about. Sometimes. But please have fun. And as for my prerequisites…
Style points count.
Keep in mind that with over 200 teams competing (with an increase of teams) this season, this list represents less than the top 25% of the UBA. If you're on here, consider that some kudos.
If you're not in the Top 4 in your district, you're not here. That means we're getting a lot of movement early.
This is for fun. Don't get salty, get motivated.
Yes, I know there's districts with byes. And yes, if it's a close race, sometimes teams will fall out due to said byes. I learned my lesson last year when teams with byes complained about that. When I decided to be nice and rewarded teams with extra spots, said teams didn't make the playoffs because they didn't get the points needed when the teams over them had byes and I looked like more of a moron than usual. This season, if you try to use that argument, I will just mention that Nice is a city in France and send you on your way. Deal with it.
If you win a Season Brawl for it all and you're not in a playoff spot, you still don't make the list. Do better.
If you won the NJ Team Rankings and didn't make the playoffs (Hi Pocket Kingz!), you're also not here (Sorry, not sorry).
I love all feedback, so keep it coming 🙂
So here we go with this week's rankings….
CURRENT PLAY NOTES: All regular season play.
Outrage (394 / 13: DMV North 1st Place: Was 1)
The road to Battle Bowl runs through Outrage, who look like they are firing on all cylinders. Can they avoid last season's very early exit?
Secret Society (379 / 13: PA South 1st Place: Was 3)
The winners in the PA South are also your #1 seed in the Northeast Conference tournament. They are sneaking up on nobody this season.
The Arsenal (366 / 13: NJNE 1st Place: Was 2)
A lacksidasical win cost them the #1 seed in the playoffs. Still, they are in a great position to make some noise in July.
High Octane (380 / 13: Sandhills 1st Place: Was 6)
Like Outrage, High Octane is running on…well…High Octane going into the playoffs as the #1 Southeast conference seed. And like Outrage, they have a lot of motivation to make sure their season doesn't end like it did last year.
Class aXe (358 / 12: Metro 1st Place: Was 9)
The fact that they took the #1 Seed in the Atlantic Conference despite bowling one less tour stop than everyone else shows their dominance this season.
Identity Crisis (342 / 12: New England North 1st Place: Was 7)
Like Class aXe, they also won their district with only needing 12 tour stops. Let's see what they can do during the second season.
Beach Brawlers (364 / 13: Inner Coastal 1st Place: was 8)
They are a lock for best new team of the year.
Str8 Bizness Cartel (387 / 13: DMV South 1st Place: Was 11)
ALMOST grabbed the #1 seed from Outrage, but they are a very solid second seed. Very nice bounce back year for them.
New World Order (384 / 13: Triad 2nd place: Was 12)
Could it be a new world order? Looks like it in the Triad. Time will tell in the playoffs.
Murder Inc. (341 / 13: NWNJ 1st Place: Was 13)
The Champs. Are. Here. Last match out showed what they are capable of doing.
Complete Anarchy (336 / 13: Deep South 1st Place: Was 16)
Not the prettiest of wins to put a bow on winning the district, but a win nonetheless. They are not going to be an easy out as they represent the much-improved Deep South.
Long Island Legends (364 / 13: Long Island 1st Place: Was 20)
Had a statement win to clinch the Long Island District. Can they improve their standings in the tournament this season?
Team Matrix (342 / 12: NJ Shore 1st Place: Was 21)
They needed 23 to win the NJ Shore. They got 24 and finished as repeat champions. That being said, their draw in the post-season tournament did them absolutely no favors.
Hitmen (364 / 13: Capital 1st place: Was 4)
Yeah, the last match didn't mean anything (well it sort of did for playoff seeding) but a few facts here – 1. Last season, only 2 teams that lost their last Tour Stop got to Battle Bowl and 2. Most of the first placed teams that did lose the last match got eviscerated in the first round of the playoffs. So 4 points here? No bueno.
All In! (320 / 13: PA North 1st Place: Was 23)
Winning the PA North is nice. Getting a first round bye is even nicer. Not facing the team that eliminated them last season is really nicest (yeah, I know it's grammatically wrong, but humor me here.)
Carolina Swag (354 / 13: Triad 2nd place: Was 5)
Lost to the NWO and the Triad district title in the process. That being said, they will be extremely dangerous in the playoffs.
Bulletproof (348 / 12: NJ South: Was 31)
Went from hanging around in the NJ South to winning the district thanks to a late surge in the Tour Stops. Remembering that they were one match away from Battle Bowl last season will make them a very attractive pick as a Dark Horse.
M.O.P. Nation Militia (314 / 13: New England North 2nd Place: Was 24)
They got to Battle Bowl as a #4 seed in their district last season. What can they do this season as a #2 seed?
Da Garden Foundation (302 / 13: NJNW 3rd Place: Was 35)
They knock out Pocket Kingz from the playoffs, then win the last Brawl For It All, defeating Murder Inc and Class aXe in the process. Very good month for DGF.
Synergy (351 / 13: Sandhills 3rd Place: Was 25)
The most dangerous team that nobody is talking about.
G-Town Heavy Hitters (359 / 13: Queen City: 1st Place: NEW)
Welcome back to the Top 50 and the Queen City title. What damage can they do in the playoffs?
Bowlerama Express (353 / 13: NE South 1st Place: NEW)
The express motored their way into the playoffs by way of a solid season. They had a solid showing in last season's playoffs. Can they repeat that success?
Usual Suspects (362 / 13: PA South 2nd Place: Was 10)
Getting hammered by Secret Society not only costs them first place – but also sends them into a first round match-up against their buddies Rival Alliance. Yipes.
D.I.L.L.I.G.A.F. (346 / 13: Queen City 2nd Place: was 27)
Coming in hot – winners of four straight Tour Stops going into the Playoffs.
Menace II Society (355 / 13: Queen City 2nd Place: Was 13)
Once upon a time MIIS was on the verge of winning the QC district. A 20-40 record for the past 2 tour stops later and they lose the QC and a first round bye by 4 points. OUCH.
Magna Carta (330 /13: DMV South 2nd Place: Was 28)
Magna Carta should be ordering drinks for SBC at the bar and paying for their tab. Second place in the DMV South is impressive.
X-It Woundz (305 / 13: NJNW 2nd Place: Was 15)
Second place in the NJNW is also impressive. However, the fact that they could have taken first may leave an unpleasant taste in their mouths. Playoffs are next.
High Voltage (310 / 13: Capital 3rd Place: Was 30)
They don't take second but the win solidifies their playoff spot and gives them bonus bowling in July.
Beast Squad (361 / 13: Sandhills 2nd Place: Was 17)
The late sputtering down the stretch costs them a bunch of money. If they bounce back it may be against their family squad Synergy. They may not enjoy the match-up but it will be fun to see.
Conspiracy Theory (322 / 13: Triad 3rd Place: Was 33)
Despite the change of scenery, they nicely hold their own in the Triad. What can they do in the playoffs?
Toms River Rats (339 / 13: NJ Shore 2nd Place: Was 18)
Sure it's an improvement on last season, but when you fall 3 points short, you wonder how many games you let get away that you would really want back. They can't afford to let any games get away during the playoffs.
Secret Invasion (338 / 13: Metro 2nd Place: Was 38)
Procuring second place is a nice accomplishment for SI. Can they make a nice secret playoff run?
Total Chaos (337 / 13: Inner Coastal 2nd Place: was 19)
Total Chaos is a good description of how they finished the season. They'll need to regroup or they will have a very short July.
Hot Pockets (318 / 13: DMV Central 2nd Place: Was 41)
Second place in the DMV Central. Could this be the sleeper team in the All-American conference that makes a deep run?
Nation of Domination (344 / 13: NJ South 3rd Place Was 22)
When they are good, they win a ton of points. When they are bad, they take 4. This time being bad costs them the NJ South. Now that we're in the playoffs, the margin of being bad is gonzo.
International Flavors (327 / 13: NJNE 2nd Place: Was 46)
Very solid first year for the return of a very dangerous franchise. Got a very favorable draw in the playoffs and this could be a team that will be getting some more ink in a few weeks.
Impact (330 / 13: DMV Central 1st Place: Was 32)
It's a good thing that Impact only needed 2 points to win their district because, in the words of Bart Simpson, 'What the heck was that?'. Right now they are looking nowhere close to the team that went to Battle Bowl last year. Upset victim?
Wrecking Crew (330 / 13: Brooklyn/Queens: 1st Place: NEW)
The Wrecking Crew come out of nowhere (just like Randy Orton's RKO) to win the Brooklyn Queens District. Will we see the Viper in the playoffs?
Outkasts (319 / 13: Capital 2nd Place / Was 26)
They do just enough to take second place in the Capital. The problem is that they didn't look very good in doing it. Playoff issues?
Total Mayhem (301 / 13: NJNE 3rd Place / NEW)
Total Mayhem eliminate the Latino All-Stars and FINALLY make the playoffs after almost a decade of UBA play. If you keep working hard and competing, good things happen.
Lane Crashers (328 / 13: Brooklyn/Queens 2nd place: Was 29)
They…well…crashed. Pun intended. They need to regroup going into the playoffs.
Rival Alliance (330 / 13: PA South 3rd Place: Was 34)
There's nothing that they needed to do. And they bowled like it.
DC Mafia (321 / 13): DMV South 4th Place: Was 36)
They probably needed the siesta after battling so hard to get into the 4th spot. Sleep tight until July. Zzzzzz.
AC Express (316 / 13: NJ South 3rd Place: Was 37)
They need to make bigger wagers when they hit the playoff table. Maybe turn it into the payoff table.
Royal Flush (332 / 13: Long Island 2nd Place: Was 40)
They got Royally Flushed by the Long Island Legends. They need to focus for the next 2 weeks.
High Powered (322 / 13: DMV South 3rd Place: Was 42)
When is 6 points considered a good win? When you hold on to your spot by 1 point. Need a better effort in the playoffs or they won't be sticking around for too long.
Striking Vipers (325 / 13 Inner Coastal: 3rd Place: Was 44)
Got recoiled. If they do that again in the playoffs, someone's going to have to call the mongoose squad.
Hell Yeah (296 / 13: PA North 2nd Place: NEW)
Successfully maneuvered around the PA north to take second place. Welcome to the playoff party.
Killerz Grip (327 / 13: Long Island 3rd place: NEW): After a year and a half of wondering why they are not in the Top 50, they FINALLY make the playoffs. Congratulations!
Project Mayhem (289 / 13: Long Island 4th place: NEW): Same goes to Project Mayhem, who after tap-dancing around the Top 50 finally get in as well.
NEXT FIVE IN: APEX Predators, DHS, The Outsiders, New England Heat, Pound4Pound
OUT (For Now): Reaper Crew, Pocket Kingz, Latino All-Stars, Voodoo