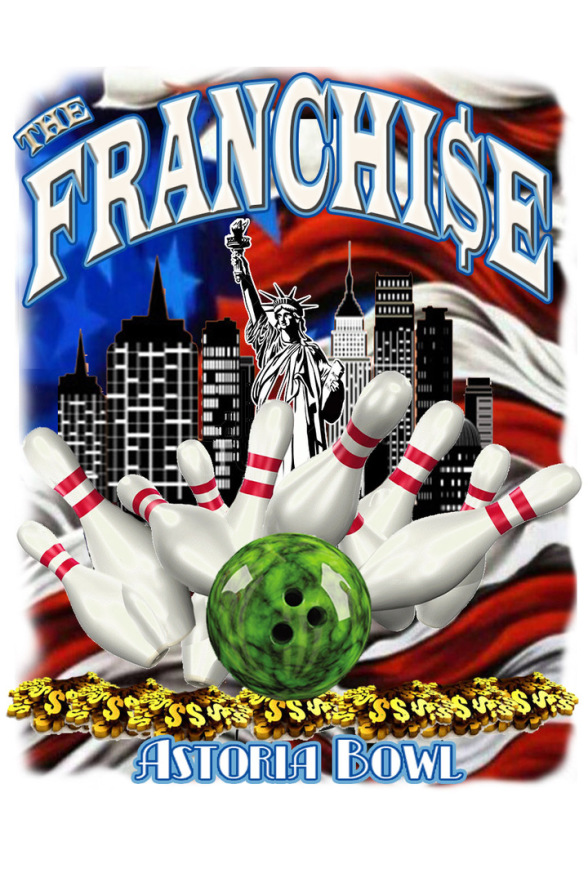 Here's the BQE Results after Tour Stop #4
Franchise: 30, Asylum: 10}The Franchise, if anything, is consistent and can play as a team. Elizabeth John provides the only 7 (712) but 6 other people shoot 6's. Dwight Taylor leads everyone on the Asylum with a 734, but he only gets a pair of 6's and a combined 253 pins under average from everyone else. They remain in 10th (and are still looking for their first win) while the Franchise remains on top because all they are doing right now is winning.

Silent Killerz: 32, Wrecking Crew: 8
When Robert Huryn (752) and Ed Ziemak (746) offset each other on the scratch side, it's time to look at the handicap side. On said handicap side, Craig Bowden (722) leads those trios to wins by a combined 263 pins, which enables the still second placed Killerz to remain undefeated in Tour Stop play. Tim Lau shoots a 703 for the 'Crew, but the loss drops them to 8th with a 20-60 record for the past 2 stops.
Lightz Out: 36, Just Us League: 4
Lightz Out is an incredibly talented team and I don't know what they were doing to start in 8th place to begin this Tour Stop, They aren't in 8th anymore, care of Michael T. Brown's 800. He also gets help – Christopher Williams (727) Curtis Warren (701), Keith Cordy (700) all toss in nice series as they jump up to 4th. Kevin Rabich (723) is the only one to return serve for the league as they take their first L, and do so in dramatic fashion – as they lose by 305 pins, they also plummet to 6th. Yipes.
Da Hit Squad: 36, Headhunters: 4
Like Lightz Out, I was wondering what DHS has been doing this season. Unfortunately for The Headhunters, this is where they woke up – George Dalton Jr (779) and Alex Prell (774) lead the scratch squad to scalp the Headhunters by 488 pins and they win the overall wood by 853 pins (NOTE: This should qualify for UBA Stretchy Nominee) The Headhunters, who are still looking for heads – and their first win – remain in 11th, while DHS screams up to 3rd, thanks to the Just Us League's mishap.
Bounty Hunters: 28, Lane Crashers: 12
You would figure that the Bounty Hunters would be winning based on their handicap squads, and they have done so – Wayne Lewis' 711 doesn't hurt, but the handicap teams go 14-6 and win the overall wood by 55. Anthony Arias (720) and Jeffrey Juarez (705) do what they can for the LC, but they fall to 9th and may be kicking themselves after this one. The Bounty Hunters remain in the Top 5 – can they do this all season?
Team Beloved: 24, Revolution: 16
Congratulations to Team Beloved for getting their first Franchise Tour Stop Win! They win the wood by 60 to get the victory, and are now 3 points away from getting out of the basement. The Revolution are now 26-54 over the past 2 weeks and fall to the bottom half of the district.