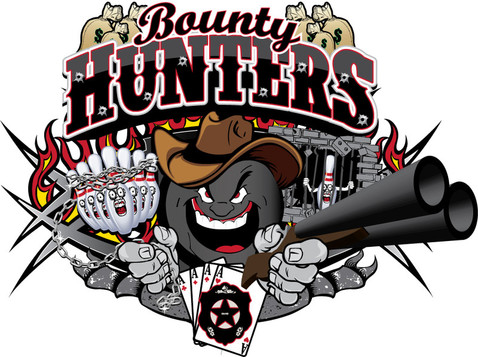 Here are the results of Tour Stop #6 in the BQE District
Bounty Hunters: 36, Team Beloved: 4
If you are a good team, these are the things you need to do to win. One of which is stomping up on a team you think you can beat. James Christakos Jrs 773, Arthur O'Connor's 726 and a beatdown on the wood by 687 pins? That fits the bill. Team Beloved remain in the basement while the Bounty Hunters are in first place for the first time in their career. Granted they are tied with…
Lightz Out: 32, Silent Killerz: 8
Silent Killerz had a chance to run away with this district, but Lightz Out says, 'Not so fast. Our 739 from Scott Teitler and a 719 from Jeremy Stevens will give us the win'. SK said, 'hey, we'll help you beat us (pause) because everyone not named Twone Williams (729) won't break a 660.' Ok, they probaby didn't say that, but that's what happened as SK drops to 4th.
Franchise: 24, Headhunters: 16
The Franchise does win, but they had to work for it. The only thing that stopped the Hunters from pulling off the massive upset was the scratch squad, as Chris Bria (740), Thomas Grecula (722) and Miguel Acobo (703) take it by 440. The Head Hunters actually went 16-4 on the Handicap side, but they remain in 11th because they couldn't make up the scratch difference. The Franchise move up to 3rd.
Lane Crashers: 26, Da Hit Squad: 14
Right now, the difference between first and 5th is 18 points. DHS could have made it a lot tighter, but they get tripped up by the Lane Crashers, who are trying to crash the party themselves. Charlie Davis' 726 and Fred Wande's 702 gives LC a 58-22 record over the past 2 matches as they creep up into 7th. Remember when we said that DHS wins when former Northeast Heavyweight Champion Alex Prell is in the lineup? Well, he wasn't, DHS only gets a 704 from Robert Fischman and they drop to 5th. Correlation?
Justus League: 30, Team Asylum: 10
When there's a huge gap between the top 8 and everyone else, you must beat up on the bottom 4 when you have a chance. Justus Leage doesn't exactly do that, but they do get the job done because the Asylum's Shaka Taylor (704) is the only person that doesn't contribute to Asylum's 175 pins below average team effort – something made more painful when Asylum only loses the wood by 105. Asylum, who has yet to get a win this season, remain in 11th while the still 8th Justus remain in the pack.
Wrecking Crew: 30, Revolution: 0
When you're in the Midpack, you MUST beat up on a team that doesn't show up. The Crew does. Sort of. Sure they take 30 and they remain in 7th, but if it's not at least 34, is that really a win? Or lost opportunities? We'll see if that comes back to bite them at the end of the season.