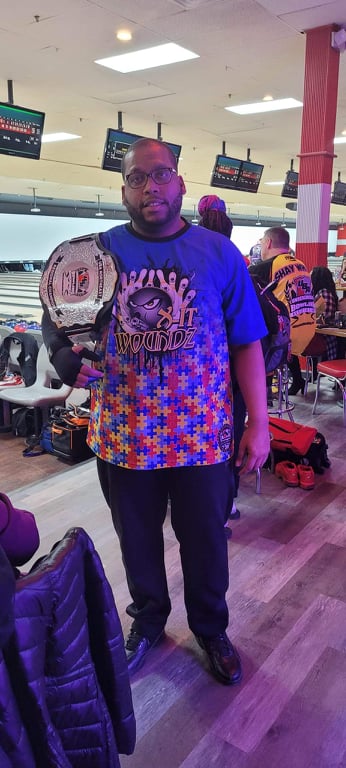 Apparently, the #1 Contender's resolution was to get belts. All of the belts found new stockings to be stuffed in except the Uncapped Tag Team Championship – that stayed with Dysfunctional Bowlers.
We start with the Heavyweight Title, where Chris Aponte wins 4-1. Tiffany Smalls was looking to pair up but she gets foiled by Terry Bollinger, (4-2) who regains the Vixen's Title. Speaking of regaining, Chondite Faison starts his new run as the Cruiserweight Champion as he dispatches long-running belt-holder Bryan Andes of Dysfunctional Bowlers. On the Welterweight side, Jeff Wiltsey Jr.'s reign lasts for a month as Jay Keith takes that belt with him back to Pennsylvania.
In Tag Team Action. the Reeces (Kryptonite) defeat Body Bagz 4-2 to take that title. As mentioned before, Raul Renteria / Dave Nagelhout, despite losing a game due to tagging at the wrong time, defeat Murder Inc 4-2 when Renteria hits the first 2 strikes in the tenth frame in the deciding game.
Congratulations to all of the winners, who get to hold on to the belts for the rest of 2021. They will have to defend in 2022 at the Northeast Draft, coming to you from 30 Strikes on January 9th.