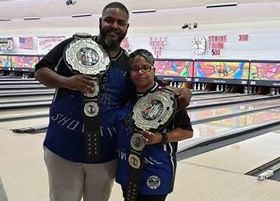 Back in June, the then-current Northeast Tag Team champions at the time (Michael Martinez and Michael Collazo, Latino All-Stars) looked to be the favorites to make it to Battle Bowl X. The last challengers in their way…Showtime! James Morse and Vernell Butler (who replaced long time partner of Morse, Peggy Sherman due to injury) climbed their way to their first title match and pulled off the upset to win the Tag Team Titles.
Fast forward to Battle Bowl X, a similar scenario would face the champions. A lot of people feel the favorites would be against showtime once again. The first title defense for showtime would be a tough duo from Da Hit Squad, Bryan Paul and Josh Valdes. Paul has made it to a couple of heavyweight titles matches in his WCS career. Valdes a dominant former Cruiserweight Champion in the northeast. People would think "how could they lose?". Well, Showtime would show them how.
Morse and Butler would come out of the gate strong, putting up a pair of 248s for games 1 and 2, followed by a 278 game 3 and a 3-0 lead on the challengers/favorites. 774 for the first three would be a tough order to overcome for the challengers. Game 4 would go to DHS with a 225-205 win but James Morse would show why Showtime has the tag team belts. Game 5 would be all showtime as Morse would start with Strike, Spare, next 5 before Butler would come in to continue the string of strikes. Showtime finished game 5 with 258, and the successful defense of the Northeast Tag Team Titles again as the underdogs.