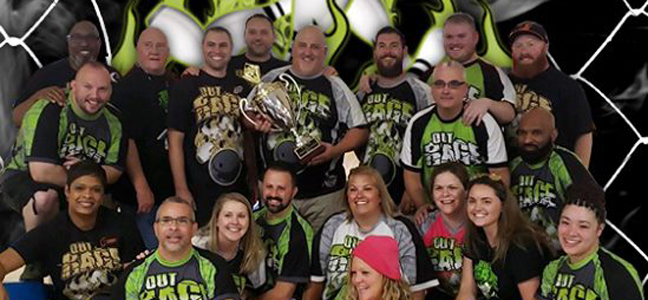 Welcome to the Top 50! This is the part where you're really happy, or – and this is the usual response – you wish to get motivated. Just a reminder – three of the 4 semi-finalists had the #1 at some point of the year (and the other one got to #5) so I sort of know what I'm talking about. Sometimes. But please have fun. And as for my prerequisites…
Style points count.
Keep in mind that with over 200 teams competing (with an increase of teams) this season, this list represents less than the top 25% of the UBA. If you're on here, consider that some kudos.
If you're not in the Top 4 in your district, you're not here. That means we're getting a lot of movement early.
This is for fun. Don't get salty, get motivated.
Yes, I know there's districts with byes. And yes, if it's a close race, sometimes teams will fall out due to said byes. I learned my lesson last year when teams with byes complained about that. When I decided to be nice and rewarded teams with extra spots, said teams didn't make the playoffs because they didn't get the points needed when the teams over them had byes and I looked like more of a moron than usual. This season, if you try to use that argument, I will just mention that Nice is a city in France and send you on your way. Deal with it.
If you win a Season Brawl for it all and you're not in a playoff spot, you still don't make the list. Do better.
I love all feedback, so keep it coming 🙂
So here we go with this week's rankings….
CURRENT PLAY NOTES: March Results, Battle Bowl Results and Brawl Results all play a part in this segment's Rankings
Outrage (356 / 12: DMV North 1st Place: Was 1)
They have clinched the DMV North and barring a brain fart against the last placed team in the last Tour Stop, will clinch the #1 seed in the All-American Conference playoffs.
The Arsenal (342 / 12: NJNE 1st Place: Was 2)
They clinched the NJNE with one tour stop to go and reclaimed the Uncapped Tag Team belts. Can clinching the #1 seed in the Northeast Conference be far behind?
Secret Society (343 / 12: PA South 2nd Place: Was 6)
First place in both the PA South AND the #1 Seed in the Northeast Playoff conference are on the line this weekend.
Hitmen (360 / 12: Capital 1st place: Was 7)
Oh look! Hitmen clinched first place in the District! Which means all of the whining from everyone who said the Hitmen weren't good….whatever.
Carolina Swag (354 / 12: Triad 1st place: Was 9)
Position round Vs. the NWO coming up. Winner gets the Traid and a very high seed in the playoffs.
High Octane (354 / 12: Sandhills 1st Place: Was 11)
High Octane has emerged as the frontrunners in the crowded Sandhills district. One more win and they clinch it.
Identity Crisis (342 / 12: New England North 1st Place: Was 4)
They are in hibernation until the playoffs. That doesn't mean that they can't fall a few spots because they are in hibernation until the playoffs.
Beach Brawlers (334 / 12: Inner Coastal 1st Place: was 12)
The Brawlers get back into the Top Ten. Can they win the Inner Coastal during their first year of existence?
Class aXe (358 / 12: Metro 1st Place: Was 17)
They have cliched first since May and may take the whole month of June off. Go to Seaside Heights, tour the Cloisters, check out the Mystic Aquarium, etc.
Usual Suspects (356 / 12: PA South 1st Place: Was 18)
They play Secret Society for the PA South. Winner also gets a Top 5 spot in the Top 50. Will it be them?
Str8 Bizness Cartel (353 / 12: DMV South 1st Place: Was 32)
They don't need that many points to win the DMV South. Can they grab the #1 seed away from Outrage and maybe make a statement on the rest of the playoffs?
New World Order (350 / 12: Triad 2nd place: Was 19)
A 66-14 run for the past 2 tour stops puts them here. If they win another tour stop, they will clinch the Triad.
Menace II Society (345 / 12: Queen City 1st Place: Was 3)
A whoops against King's Court moves them out of the Top 10. Still has a playoff spot clinched and will still win the Queens City if they can defeat G-Town.
Murder Inc. (313 / 12: NWNJ 1st Place: Was 5)
Another clash Vs. X-It Woundz awaits, but if they can get past them, then they will take the district.
X-It Woundz (292 / 12: NJNW 2nd Place: Was 8)
Speaking of which….hi there!
Complete Anarchy (313 / 12: Deep South 1st Place NEW)
They haven't lost since Tour Stop #4 and are looking to put a bow on the Deep South.
Beast Squad (347 / 12: Sandhills 2nd Place: Was 10)
Still have destiny in their own hands but they didn't help themselves during the past few tour stops.
Toms River Rats (323 / 12: NJ Shore 1st Place: Was 28)
The Rats have now won 5 straight Tour Stops to take first, but if they really want to take that step forward, they need to knock off the bullies of the block – Team Matrix.
Total Chaos (309 / 12: Inner Coastal 2nd Place: was 13)
They can still win the Inner Coastal on their next tour stop, but those 8 points they only took hurt them severely.
Long Island Legends (334 / 12: Long Island T-1st Place: Was 35)
They came THIS close last season to winning the district. Can they seal the deal this season?
Team Matrix (318 / 12: NJ Shore 1st Place: Was 14)
They need 23 to win the NJ Shore and finish as repeat chanpions. And to do that, they need to do better than the 14 point egg they laid before the bye.
Nation of Domination (236 / 9: NJ South 3rd Place Was 20)
They go 104-16 since taking that 4 piece a few tour stops ago. As long as they avoid taking another 4 piece, they will win the NJ South.
All In! (260 / 11: PA North 1st Place: Was 35)
They severely needed those 32 points on the last tour stop. They can right the world with a win to take the PA North. If not….well, let's stay far far away from Jonathan Dansbury's house, where there's sure to be a massive explosion.
M.O.P. Nation Militia (282 / 12: New England North 2nd Place: Was 27)
They are cemented in the second placed spot, so meaningless tour stop coming up to end their season.
Synergy (323 / 12: Sandhills 3rd Place: Was 30)
Clawing their way up the charts and solidifying a playoff spot because of it. Good job.
Outkasts (311 / 12: Capital 2nd Place / Was 22)
The loss + a Hitmen win = trying to hold on to second place for the last tour stop.
D.I.L.L.I.G.A.F. (318 / 12: Queen City 2nd Place: was 31)
Winners of their past 3 tour stops. Can they make a run at second place?
Magna Carta (308 /12: DMV South 3rd Place: Was 23)
Can't take first. Can win second if they win and SBC beats up on High Powered. Guess who's going to be the world's biggest SBC fan?
Lane Crashers (318 / 12: Brooklyn/Queens 1st place: Was 25)
Simple equation – win and take the Brooklyn/Queens. They are in the playoffs regardless.
High Voltage (278 / 12: Capital 3rd Place: Was 21)
They need a big win to take second. They need any sort of win to make sure they are still bowling in July.
Bulletproof (312 / 12: NJ South: NEW)
Welcome back to the Top 50. Can you dominate the Nation of Domination?
Impact (324 / 12: DMV Central 1st Place: Was 24)
As long as they don't get destroyed, they will take the DMV Central. Doesn't seem like the have the fire of last year's version though.
Conspiracy Theory (294 / 12: Triad 3rd Place: Was 29)
They have made the playoffs. A win over Sub-zero keeps them in third.
Rival Alliance (320 / 12: PA South 3rd Place: Was 37)
Barring a massive brain fart on the last tour spot, they are locked into the third position.
Da Garden Foundation (272 / 12: NJNW 3rd Place: NEW)
Well look who has risen back from the dead. Like zombies, they can't die. And they are looking to eat the Pocket Kingz' brains.
DC Mafia (303 / 12): DMV South 4th Place: Was 38)
They needed a high quality win to not worry about making the playoffs for the last tour stop. A 38-2 win will just about do that.
AC Express (300 / 12: NJ South 3rd Place: Was 40)
Sure they will make the playoffs and sure they will be in third, but they have to look at this season as some sort of disappointment. Maybe they can turn that around in the playoffs.
Secret Invasion (310 / 12: Metro 2nd Place: Was 33)
Can't take first. Now they have to attempt to successfully defend second.
Reaper Crew (277 / 12: NJ Shore 3rd Place: Was 34)
Once upon a time, this team was in first in the NJ Shore. Now they need a win just to make the playoffs. Yipes.
Royal Flush (322 / 12: Long Island 2nd Place: Was 39)
Another team that hasn't done as well as they did last season. That being said, if they win by enough, they will take the Long Island district for the second straight season.
Hot Pockets (285 / 12: DMV Central 2nd Place: Was 44)
They need everything to take first. That's not going to happen against Impact. Second would be nice.
High Powered (316 / 12: DMV South 3rd Place: Was 50)
They can grab second place with a victory.
Pocket Kingz (248 / 12: NJNW – 2nd Place: Was 16)
If you've ever seen Lost In Space, then you're aware of Robby the Robot screaming 'Danger Will Robinson!' Danger! Danger! The Pocket Kingz, who were in first in the Top 50 at one point, need to have Robby the Robot in their head. Should they lose and not make the playoffs, they turn into the UBA's version of the NCAA Men's Basketball's North Carolina.
Striking Vipers (315 / 12 Inner Coastal: 3rd Place Was 43)
A win can get them into second. Very good season for the Vipers.
DC Mafia (303 / 12: DMV South 4th Place: NEW)
Took you long enough to get here. Sheesh.
International Flavors (292 / 12: NJNE 2nd Place: Was 46)
Simple equation: Don't get your butt handed to you and you make the playoffs.
Dysfunctional Bowlers (289 / 12: NJNE 4th Place: Was 48)
Once again, you get the same message as International Flavors. You both play nice in the sandbox and you'll both come out of it fine.
Latino All-Stars (278 / 12: NJNE 2nd Place: Was 45)
This is a different message – you MUST win against Total Mayhem or they shall be taking your spot in both the Top 50 and the playoffs.
N.W.O. Wolfpack (281 / 12: DMV Central 3rd Place: Was 36)
A little bit of a stumble, but they could make the playoffs – and I'd be really intrigured about their chances if they do..
Voodoo (274 / 12 PA North: 4th Place NEW)
Fortunately they have enough of a gap to get into the playoffs that magic spells are not needed.
NEXT FIVE IN: Hell Yeah, APEX Predators, DHS, The Outsiders, Killerz Grip
OUT (For Now): The Fury, Spartanberg Savages, Train Wreck