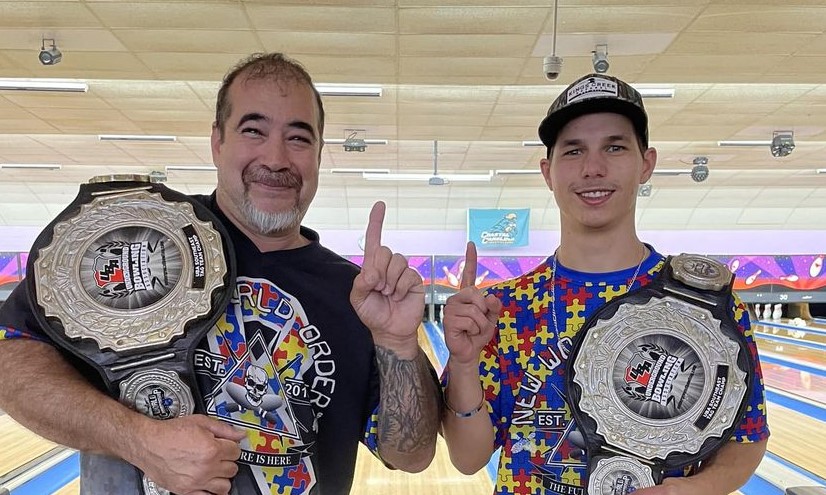 Welcome to the Top 50! This is the part where you're really happy, or – and this is the usual response – you wish to get motivated. Just a reminder – three of the 4 semi-finalists had the #1 at some point of the year (and the other one got to #5) so I sort of know what I'm talking about. Sometimes. But please have fun. And as for my prerequisites…
Style points count.
Keep in mind that with over 200 teams competing (with an increase of teams) this season, this list represents less than the top 25% of the UBA. If you're on here, consider that some kudos.
If you're not in the Top 4 in your district, you're not here. That means we're getting a lot of movement early.
This is for fun. Don't get salty, get motivated.
Yes, I know there's districts with byes. And yes, if it's a close race, sometimes teams will fall out due to said byes. I learned my lesson last year when teams with byes complained about that. When I decided to be nice and rewarded teams with extra spots, said teams didn't make the playoffs because they didn't get the points needed when the teams over them had byes and I looked like more of a moron than usual. This season, if you try to use that argument, I will just mention that Nice is a city in France and send you on your way. Deal with it.
I love all feedback, so keep it coming 🙂
So here we go with this week's rankings….
CURRENT PLAY NOTES: Most Tour Stops after stop 5 come into play here.
New World Order (160 / 5: Triad 1st place: Was 4)
We are now at the 1/3rd mark of the season, where we sort of know who teams are. A team with some belts who wins tournaments and who hasn't taken a loss in Tour Stop play yet gets to hang out up here in the top spot.
Outkasts (164 / 5: Capital 1st Place / Was 7)
How to get up to second in less than a month – 1. Be dominant in tour play. 2. Watch almost every single team in front of you take their first L of the season. Santa was good this year. Ho ho ho.
Beach Brawlers (152 / 5: Inner Coastal 1st Place: was 10)
If there's any argument to be made that new teams can come in and make a splash in the UBA, this team would be one of them. For now.
Synergy (157 / 5: Sandhills 1st Place: Was 11)
Wellll look who's back in the Top Ten. Can this be a time for resurgence?
Outrage (158 / 5: DMV North 1st Place: Was 17)
Remember the last time out I asked if their loss was a cause for concern? Well, winning 36-4 and building their lead back up to 44 points is them telling me, 'No. Shut up Gordon and go back to ranking everyone else while putting us back into the Top Five'. Message received.
Pocket Kingz (106 / 4: NJNW – 1st Place: Was 14)
The Pocket Kingz didn't have any tour stops in December. They also didn't lose, like a bunch of other teams did. So they get to move up a whole bunch of spots for doing absolutely nothing – like what most corporate people did in December.
Murder Inc. (102 / 4: NWNJ – 2nd Place: Was 16)
See Kingz, Pocket – though I will give them a little more love since they are the defending champs.
The Fury (158 / 5: NE South 1st Place: Was 20)
There are 3 undefeated teams left in the NE South. This one is in first place as this district clearly got a lot more competitive.
Nation of Domination (134 / 4: NJ South 1st Place Was 26)
They have one tie. The other 3 results have been 38-2 victories. We may have a new monster in the NJ South.
Hitmen (146 / 5: Capital 2nd place: Was 26)
Sorry Hitmen, but because you went 40-0 in Tour Stop play and with what everyone else in the Top Ten did, I am forced to put you back into the Top Ten. This is going to pain me a lot more than it's going to pain you (JK).
Team Matrix (134 / 5: NJ Shore T-1st Place: Was 33rd)
Their 2 losses are a combined 20-40. Their 3 wins are a combined 114-6. That gets you a tie for first in the NJ Shore district.
Reaper Crew (134/ 5: NJ Shore 1st Place: Was 13)
Sure, they won, but I'm still trying to figure out how good this district actually is, as they are tied for first with a team with 2 tour stop losses.
Impact (128 / 4: DMV Central 1st Place: Was 1)
I'm going to say to you now what I said to Outrage on the last column. Is this loss just a blip on the radar or a potential warning sign?
AC Express (118 / 4: NJ South 2nd Place: Was 27)
Nation of Domination may be making the headlines, but AC Express are silently picking up wins…
Royal Flush (142 / 5: Long Island T-1st Place: Was 19)
The 30-10 win gets them back into a tie in the Long Island district – but now they do have some company…
Suicide Squad (142 / 5: Long Island T-1st Place: NEW)
You knew they were going to be a better team. You didn't know how good, but with their 36-4 victory, now you know. The danger about being in the Long Island District, is that one day you're in the Top 4, and the next day you're out (Channeling my inner Heidi Klum)
High Octane (150 / 5: Sandhills 2nd Place: Was 2)
They won't stay out of the Top 10 for long. They will have to take notice though.
Carolina Gatekeepers (140 / 5: Deep South 1st Place Was 39)
72-8 for the past 2 Tour Stops moves them into first place in the Deep South district. They need to do some gatekeeping in order to stay there.
Class aXe (144 / 5: Metro 1st Place: Was 3)
Still in first, but they can't expect to stay there if they continue to lose that way. FYI – Shout out to RoyaltyOnDaLanes, who haven't taken a Tour Stop loss yet and will crack the Top 50 should they keep wining because they have already taken their bye. Hmmm…
Rollin' Rebels (150 / 5: Sandhills T-2nd Place: Was 24)
If the Top 3 teams in the Sandhills District keep winning, this is going to be 1. an exciting race for first and 2. an exciting race to see who comes in 4th and gets the honor of being dusted by one of the top 3 teams in the first round of the playoffs.
Str8 Bizness Cartel (146 / 5: DMV South 1st Place: Was 5)
Either Contract Killaz got a lot better or they caught SBC having a really really brutal day. We'll see by March which one of those statements sounds better.
Spartanberg Savages (138 / 5: Deep South 2nd Place: Was 25th)
Daphne Smith continues to hold onto the Southeast Vixen's title and the team is 2 points away from taking first place back. Things are starting to return to normal.
All In! (142 / 5: PA North 1st Place: Was 9)
Conversely, Troy Gafgen lost his match for the Cruiserweight title and All-In lost at Westbrook. Things are not going in the usual direction, so they fall here.
Usual Suspects (144 / 5: PA South 1st Place: Was 35)
Spanking a rival 38-2 and taking first place back is a good way to shoot up 10+ spots.
Wrecking Crew (126 / 5: Brooklyn/Queens 1st Place: Was 8)
They had a shot to blow this thing wide open, but losing 34-6 means that they are now tied with…
JustUs League (126 / 5: Brooklyn/Queens 1st Place: NEW)
You don't think they want to wash last years end of the season sting off? If they finish in first, they can start cleaning off the bee venom.
Identity Crisis (176 / 7: New England North T-1st Place: Was 39)
Fiiiiiiine, I'll put them up in the Top 30 despite the fact that they have had more tour stops than almost everyone else.
Mill City Mayhem (176 / 7: New England North T-1st Place: NEW)
And if I put Identity Crisis up here, I will also put up here the team that's tied with them.
G-Town Heavy Hitters (136 / 5: Queen City 1st Place: Was 9)
So it was only a 24-16 loss, but it was a loss to a depleted King's Court team that's currently in 9th place. teams who want to aspire to win the Wilder Cup don't take those sorts of losses.
187 Inc (134 / 5: Queen City 2nd Place: NEW)
Objects in the rear view mirror are closer than what they appear. And no, it's not a dinosaur that's following G-Town. It's much worse.
Dark Legendz (114 / 4: Long Island 3rd Place: Was 28)
They just took their blind and they are still in third. They could wind up being a force in the Long Island District this season.
The Arsenal (126 / 5: NJNE T-1st Place: Was 15)
Though Nick Gavron and Audrey Snell still have the Uncapped Tag Team titles all to themselves, they don't have first place in the NJNE District all to themselves.
Total Mayhem (126 / 5: NJNE T-1st Place: Was 50)
Total Mayhem, 120-40 after their first Tour Stop loss, now get to hang out with the Arsenal. Sharing is caring.
Secret Invasion (140 / 5: Metro 2nd Place: Was 36)
If I moved them up too quickly too soon, it wouldn't be a secret invasion now, would it?
Menace II Society (116 / 4: Queen City 3rd Place: Was 41)
Another team that's taken a bye and hasn't lost a match yet. Only a matter of time until they start moving up the ranks.
D.I.L.L.I.G.A.F. (128 / 4: Queen City 3rd Place: was 12)
They could have jumped into first place in the QC district. if they won their last match. Clearly, they didn't win.
Top Gunz (100 / 4: NJNW 3rd Place Was 29)
Sometimes when you don't do anything for a month you move up, and sometimes you move down. Such is the life if positioning in the Motivational Top 50.
Carolina Swag (140 / 5: Triad 2nd Place (T): Was 18)
During the position round, they must have gotten clobbered by Miss Elizabeth's shoe (points if you know the reference).
X-It Woundz (92 / 4: NJNW 4th Place: Was 30)
Inactive = not much to be said. Lots to be said in January.
Conspiracy Theory (130 / 5: Triad 3rd Place: Was 22)
Takes their first loss in definitive fashion against G.O.A.T. That could spell trouble for the rest of the Triad District.
Dysfunctional Bowlers (121 / 5: NJNE 4th Place Was 31)
They won BUT fall because other teams are jumping them in the standings. Tell the Northeast Cruiserweight belt I say hi.
Hot Pockets (123 / 5: DMV Central 2nd Place: Was 43)
They have yet to take 30 points in any of their Tour Stop wins, but at least they are getting Tour Stop wins.
Bowlerama Express (124 / 4: NE South 2nd Place: NEW)
So how do you make the Top 50 and have a blind while doing it? Have 11 of the bottom 15 teams in the Top 50 lose, that's how.
Ice Nation (120 / 4: NE South 3rd Place: Was 44)
They took their blind with minimal damage. Now it's time to ice other teams in January.
Magna Carta (120 / 5: DMV South 2nd Place: Was 48)
They keep winning while other teams keep losing. That being said, they need to do some work and get bigger margin of victories.
M.O.P. Nation Militia (172 / 7: New England North T-1st Place: NEW)
Putting them here because we've seen what they can do once they get to the playoffs and they have a huge gap between them and not making the playoffs.
The Legacy (124 / 5: NJNE 3rd Place NEW)
They move back into the Top 50 after their bounce-back win. The NJNE this year has a lot more parity in it than usual.
Secret Society (129 / 5: PA South 2nd Place NEW)
Another quiet team that seems to be getting it together a lot quicker this season than they did last season.
Striking Vipers (130 / 5 Inner Coastal: 2nd Place NEW)
They had a good run last season and now with no one wanting to take control after the Beach Brawlers, have a chance to accelerate their progress. Can they?
Doverama Dawg Pound (122 / 5: PA South 3rd Place Was 29th)
During their last 2 matches, the Pound won 30-10 and then turned around to lose 38-2. Doggie gets a spanking.
NEXT FIVE IN: RoyaltyOnDaLanes, Train Wreck, Hell Yeah, Beast Squad, G.O.A.T.
OUT (For Now): Augusta Reign, Project Mayhem, Messenger Mafia, The Expendables, South Jersey Storm, Southern Asylum, Apocalypse, Tribe Called Nest, The Fallout, Lane Crashers