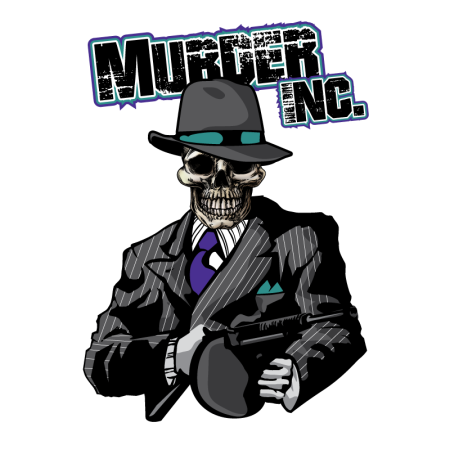 Welcome to the Top 50! This is the part where you're really happy, or – and this is the usual response – you wish to get motivated. Just a reminder – three of the 4 semi-finalists had the #1 at some point of the year (and the other one got to #5) so I sort of know what I'm talking about. Sometimes. But please have fun. And as for my prerequisites…
Style points count.
Keep in mind that with over 200 teams competing (with an increase of teams) this season, this list represents less than the top 25% of the UBA. If you're on here, consider that some kudos.
If you're not in the Top 4 in your district, you're not here. That means we're getting a lot of movement early.
This is for fun. Don't get salty, get motivated.
I love all feedback, so keep it coming 🙂
So here we go with this week's rankings….
CURRENT PLAY NOTE: Everyone's had 2 tour stops. That's enough to get some very early first impressions.
Murder Inc. (NWNJ – 1st Place: Was 1)
The Champs, who won the Team Rankings, are not missing a beat so far.
Royal Flush (Long Island 1st Place: Was 2)
Averaging 34 points per tour stop keeps them here.
Impact (DMV Central 2nd Place: Was 4)
Last year, they were up here all season and playing second fiddle to Outrage. Now they are playing second fiddle to the Expendables. For now.
Tribe Called Nest (Metro 1st Place: Was 5)
No post-season hangover here. Currently they have a share of the lead.
MOP Nation Militia (New England North 1st Place: Was 7)
The start out of the gate was impressive. Double headers could help this team greatly.
Class aXe (Metro 1st Place: Was 18)
If you were paying attention to the NJNE, you would have expected Class aXe to do very well here. They should be staying up there (and in the Top 50) all season.
High Octane (Sandhill 2nd Place: Was 19)
Very strong start, though this season, they seem to have company at the top…
Rollin' Rebels (Sandhills 3rd Place: Was 21)
Sort of company with High Octane.
Spartanberg Savages (Deep South 2nd Place: Was 24th)
Trying to get the bitter taste of last season's playoffs out of their mouths.
Outrage (DMV North 1st Place: Was 26)
Outrage, who has the biggest lead over anyone at 22 points after 2 tour stops, says 'Hold My Beer.'
The Arsenal (NJNE 1st Place: Was 31)
They have a chip on their shoulder from last season and bulked up.
X-It Woundz (NJNW 2nd Place: Was 32)
Flexing their muscles early this time around, instead of having to make a mad dash to get into the playoffs.
Legacy (NJNE 2nd Place: Was 36)
Took a lot more than zero this time around on their first tour stop, which is why they are only 2 behind Arsenal.
New World Order (Triad 1st place: NEW)
They lead all UBA teams with 74 points after 2 tour stops.
All In! (PA North 1st Place: Was 49)
The 72 points after 2 tour stops is the most of any team in the Northeast and second most in the entire UBA.

U

sual Suspects

(PA South 1st Place: Was 42)


Right now, they are where they want to be. Keep in mind the tough tests are coming up.
Silver Lanes Express (NE South 2nd Place: Was 33)
Made a few tweaks on their lineup. So far, it's paying off well.
New England Heat (NE South 1st Place, Was 34)
Right now, in front of SLE by 2 points, but behind them in the rankings because SLE escorted them out of the playoffs. Will that hold?
Toms River Rats (NJ Shore 2nd Place: Was 29)
The Rats want to run the ship to make sure it doesn't sink. This is a good start
AC Express (NJ South 3rd Place: Was 28)
Not the most impressive wins to start off the season, but they are wins, nonetheless.
Kingsmen (PA South 3rd Place: Was 38)
See Express, AC. Still, a much better start than last season.
Conspiracy Theory (Triad 2nd Place: Was 40)
So far, the move from one division to another hasn't been too painful.
Synergy

(Sandhills 1st Place: NEW)


They were threatening to make some noise during last year's playoffs. Now they are threatening to make their stay on this chart a long one.
Apocalypse (Metro 1st Place: Was 44)
Part of the 3-way first placed dance. Ranked lower because they haven't proved themselves against any of the big boys yet.
Project Mayhem (Long Island 2nd Place: Was 47)
So I've been asked – how do you make a big jump in the rankings? Starting off the season 67-13 is a good starting point.
Str8 Bizness Cartel (DMV South 1st Place: NEW)
I was sort of expecting to write their name up here every time last season. Can they do it this season?
Beach Brawlers (Inner Coastal 1st Place: NEW)
A few new teams are making some noise early. Here's one of them…
Southern Asylum (Deep South 1st Place: NEW)
And here's another. How long can they stay there?
Reaper Crew (NJ Shore 1st Place: NEW)
Welcome back to the NJ Shore, Reapers.
South Jersey Storm (NJ South 1st Place: NEW)
Are you here because you're good – or are you here because the first 2 opponents were in the bottom half last season? The next few matches should determine the answer.
Wrecking Crew (Brooklyn/Queens 1st Place: NEW)
They should have made the playoffs last season, but the end stretch killed them. If they build enough equity now, they won't have to worry about said end stretch later.
Boondoggle (Queen City 1st place / NEW)
It's early, but they are sure looking like how they bowled a few years back.
The Expendables (DMV Central 1st Place: NEW)
You get surprises around this time every season. Here's one of this years so far.
Cash Collectors (Capital District 1st Place: NEW)
They were 9th out of tenth last season, and while this may not last for too long, they should get some dap for the time that they are here.
Hitmen (Capital 4th place: Was 3)
They won't stay in 4th place, but the dreams of going undefeated for 2 straight regular seasons have just gone bye-bye.
Sub-Zero (Triad 4th Place: Was 23)
A few more losses and we'll be cueing The Running Man's Richard Bachman.
D.I.L.L.I.G.A.F. (Queen City 3rd Place: was 27th)
Not a bad first two tour stops. There's room for improvement though.
Team Matrix (NJ Shore 4th Place: Was 30th)
Neo hated the sequels also. Trinity too.
Hot Pockets (DMV Central 3rd Place: Was 45)
Needs some salt or spice because right now they are really bland. Still tasty though.
Pocket Kingz (NJNW 4th Place: Was 46)
The benefits of being in a district that's so tough that the last placed team who left is in first place in the NJ Shore. Sorry, not sorry.
Bounty Hunters (Brooklyn Queens 2nd Place: New)
Lost the playoff push because they lost to some teams near the end that they should not have lost to. Did they learn from their experience last season?
The Fallout (NE South 3rd Place: New)
Welcome to the jungle. We got fun and games.
High Powered (DMV South 2nd Place: New)
Can they make the jump from good to great?
Carolina Gatekeepers (Deep South 3rd Place: New)
The Deep South's getting Deep – four teams have 60+ points after two tour stops.
Wasted Potential (Deep South 4th Place: New)
And here's the 4th team, who is a very very silently good team. Shhh.
Messenger Mafia (NJNE 3rd Place: New)
Another 60 point team – BUT – the schedule gets a lot harder for them. Can they continue to climb?
G-Town Heavy Hitters (Queen City 2nd Place: New)
This team was in fifth in a four team race last season. Can they get the necessary wins to make the playoffs?
Total Chaos (Inner Coastal 2nd Place: New)
How much chaos can they cause in a suddenly wide open Inner Coastal district?
The Fury (NE South 4th Place: New)
Some of you are saying, 'Gordon, for a district that you pick on (which I do), why do they have 4 teams ranked?' The answer is that they all have 60 points, but that will soon vanish once they beat up on each other.
Carolina Swag (Triad 3rd Place: New)
Brad Kurth always has good teams that make runs. Credit to him once again.
NEXT FIVE IN: Doverama Dawg Pound, Nation of Domination, Suicide Squad, Disturbin Da Peace, Outkasts
OUT (For Now): Disorderly Conduct, Secret Society, Reality Check, Lightz Out, DC Mafia, BC Crew, Bulletproof, Da Garden Foundation, Complete Anarchy, Philly Horsemen, Beast Squad, G.O.A.T., Kryptonite, The Militia, Natural Disaster, Identity Crisis, Rival Alliance, King's Court, Most Wanted, The Franchise