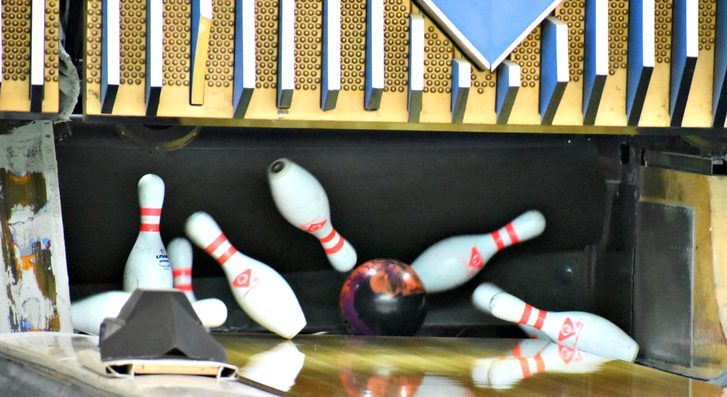 This weekend, Area 51-8 will be holding their tournament in Schenectady and a few local papers have picked up the tournament. One of them, the Daily Gazette, has given it some prime time property. Under this paragraph will be the part of the article that involves the UBA and at the bottom is the link to the full article.

(Credit: The Daily Gazette)
Avid bowler Gabe Criscuolo's mission is to make the relatively unknown Underground Bowling Association a household name among the serious local 10-pin enthusiasts. His first major step is to introduce the unique and intriguing new organization with a special tournament Saturday at Sportsman's Bowl.
What is the UBA?
"The UBA has been around for 10-15 years or so, maybe a little longer," said Criscuolo, who was born in Connecticut, but now makes Schenectady his home with his wife Elizabeth. "It's all up and down the East Coast and especially in the New York City and New Jersey areas. I heard about it from some friends when I was growing up in Connecticut. I looked at trying to get a team in the Binghamton area when my wife and I lived there for a while, but it didn't materialize.
"The UBA is basically another kind of bowling organization like the USBC or the TNBA [The National Bowling Association], but the whole atmosphere is a little bit different. They do things differently."
For one thing, the UBA take a very modern approach with its social media presence. There is a lot of trash-talking going on between teams, with challenges made and accepted. Side "action" is abundant, and every event includes many different types of competition.
"Everybody is required to have an official jersey if you are a UBA member, although you can still be an independent bowler and compete in almost all of the events," Criscuolo noted
"Our team is in the New Jersey Northeast Division, and all of the tournament stops are within two or three hours from here. The way the team thing works is that you've got to bring nine bowlers, with three different groups of three bowling on three different pairs. I've got scratch and handicap teams. Because of the nature of the tournaments and all the travel involved, teams can actually have between 20 and 30 bowlers, and some even have 100-plus members. Right now, my team has about 30 bowlers, and I've sent out 15 of them in matches so far. I try to rotate people based on their availability."
But the team aspect, loaded with special side events, will only be a small part of this inaugural local UBA event.
"Saturday's tournament will be a singles tournament. We will have some other UBA teams in attendance, and there could be some kind of team match going on from what I hear, but the main event will be a singles elimination tournament to introduce the UBA to the area," Criscuolo said. "There are also going to be championship belts for singles and doubles. They separate the fields by averages, and everyone is ranked. There might even be couple of guys bowling a match either before or after the tournament. Another thing about the UBA is that you can be called out with some trash talk leading up to a match. The UBA is very big with social media. A lot of the matches are made on social media."
Saturday's kickoff tournament is named after the local team, the 51-8 Alien Swarm. BowlTV is scheduled to be on hand to televise the finals.
"It's been kind of chaotic putting this thing together," Criscuolo said. "I've never run a tournament like this before, and there are all kinds of UBA rules and regulations we must follow."
Criscuolo, who bowls 4-5 times a week in leagues and also competes regularly in tournaments, already has roughly 65 bowlers entered, including well-known local standouts like Liz Kuhlkin, Steve Wagoner, Craig Taylor, Chris Fawcett, Ron Williiams, Don Herrington, R.J. Martinez, Chamar Goodwin, Matt Swiatocha and many others. If you would like to enter, just message Criscuolo on Facebook. Check-in is noon on Saturday, and the action begins at 1 p.m. Entry fee is $60 ($50 for UBA members). Handicap will be 70% of 250.
The format will be everyone will bowl four games on the same pair they start. The top four opening-round qualifiers receive byes into the final eight-person bracket round, seeded 1-4.
After the top four are removed, the field is cut to one-quarter. Bowlers who make the cut bowl two more games, with the top four advancing and being seeded 5-8 for the final round. The finals are single-game match-play brackets.
For more information, contact Criscuolo at 203-209-9365.
If you're looking for something new in the bowling world, this might be it.
"I'm learning as I go," Criscuolo said. "I'm very happy that we now have a UBA team in our area, but what I really want is to have an entire division in the Capital Region. I want a bunch of area centers to get involved. If there is anybody with an interest in starting another team or two, let me know. I can help. Plus there will be several UBA officials at Saturday's event."