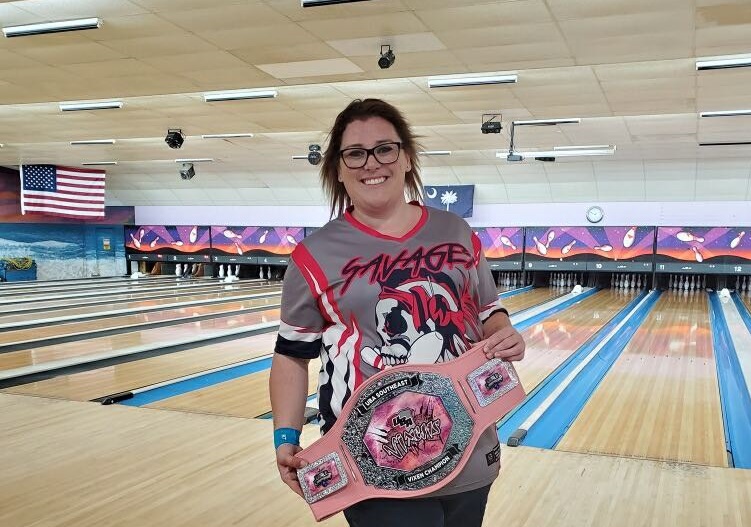 Here are the Deep South results after Tour Stop #5
Spartanburg Savages: 25, BUFU: 15
The Savages continue to be the only team in this district without a tour stop loss, and they can credit the ladies, including current Vixen's champion Kacey Parnell, Daphne Smith and Turner Pile (703). Ethan Griffin shot a 712 for BUFU, but all of their aforementioned Savages series were higher than any BUFU series as Leonard Freeman's squad remains in third.
Wasted Potential: 26, Complete Anarchy: 14
Gary Sutton's 741 is not wasted for Wasted Potential, as they slide up to 4th. Nicholas Doggette's 719 is sort of wasted because their scratch team only takes 2 points and their second handicap team shoots 282 pins under average as they get plastered. Despite the loss, Complete Anarchy remains in second.
Body Snatchers: 36, The Outsiders: 4
The Body Snatchers get their first win of the season care of Bradley Jordan's 712. The Outsiders fail to capitalize on the top teams struggling as they struggle themselves: a blind + 202 pins under average = 20-60 for the past 2 tour stops.
Dirty South Legends: 32, Augusta Reign: 8
DSL has a lot of legens – and Claudia Meeks, who goes for a trey bomb and a 759 series. This is what the Augusta Reign was doing last year, and they are doing some of it this year with a 720 from James Hawthorne Jr. but too much DSL drops them to the basement. Charles Withers hits a 732 for the DSL, as they are in 7th, but because of the tightness of this district, are only 30 points out of second.