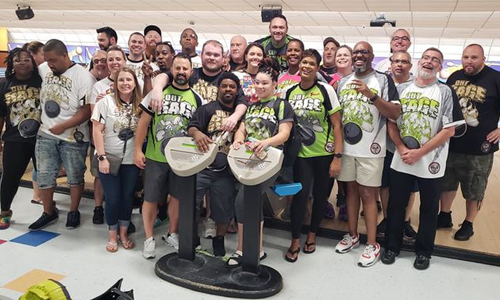 Welcome to the Top 50! This is the part where you're really happy, or – and this is the usual response – you wish to get motivated. Just a reminder – three of the 4 semi-finalists had the #1 at some point of the year (and the other one got to #5) so I sort of know what I'm talking about. Sometimes. But please have fun. And as for my prerequisites…
Style points count.
Keep in mind that with over 200 teams competing (with an increase of teams) this season, this list represents less than the top 25% of the UBA. If you're on here, consider that some kudos.
If you're not in the Top 4 in your district, you're not here. That means we're getting a lot of movement early.
This is for fun. Don't get salty, get motivated.
Yes, I know there's districts with byes. And yes, if it's a close race, sometimes teams will fall out due to said byes. I learned my lesson last year when teams with byes complained about that. When I decided to be nice and rewarded teams with extra spots, said teams didn't make the playoffs because they didn't get the points needed when the teams over them had byes and I looked like more of a moron than usual. This season, if you try to use that argument, I will just mention that Nice is a city in France and send you on your way. Deal with it.
I love all feedback, so keep it coming 🙂
So here we go with this week's rankings….
CURRENT PLAY NOTES: All regular season play
Outrage (394 / 13: DMV North 1st Place: Was 1)
They didn't have a match, so they couldn't get knocked out. That changes this weekend.
Class aXe (358 / 12: Metro 1st Place: Was 5)
They are the other #1 seed left besides Outrage. Can they get to Battle Bowl?
Beach Brawlers (364 / 13: Inner Coastal 1st Place: was 7)
Is the label of 'first year team getting to Battle Bowl' a reality? Or will it fade like castles in the sand? (Sorry I had to go there).
Str8 Bizness Cartel (387 / 13: DMV South 1st Place: Was 8)
On the other side of the bracket and away from Outrage, so we could see the both of them in Delaware.
New World Order (384 / 13: Triad 2nd place: Was 9)
So far, so good for Randy McWilliams' squad. They have Synergy to look forward to.
Murder Inc. (341 / 13: NWNJ 1st Place: Was 10)
July starts Murder Season. They are looking to continue the season through August.
Complete Anarchy (336 / 13: Deep South 1st Place: Was 16)
They get past a pesky DILLIGAF squad and completely avoid Hitmen. Can they make a run?
Bulletproof (348 / 12: NJ South: Was 17)
We all know they are looking at X-It Woundz. If they overlook International Flavors they won't have to worry about X-It Woundz.
M.O.P. Nation Militia (314 / 13: New England North 2nd Place: Was 18)
They are on the opposite side of Class aXe in the bracket, which means that from a scratch standpoint, they will be the favorites in their next 2 matchups.
Da Garden Foundation (302 / 13: NJNW 3rd Place: Was 19)
They are starting to get hot at the right time. Could we see them Vs. Murder Inc. next weekend?
Synergy (351 / 13: Sandhills 3rd Place: Was 20)
Last time out I called them the most dangerous team that no one is talking about. Now they are starting to be talked about and I'm looking pretty smart. For now. Until I'm not.
G-Town Heavy Hitters (359 / 13: Queen City: 1st Place: Was 21)
They looked very good in their win last week. They have yet to make a trip to Delaware. Could this be their time?
X-It Woundz (305 / 13: NJNW 2nd Place: Was 27)
So why do they get to jump? Because Chris Aponte's 300/800+ Series, that's why.
Bowlerama Express (353 / 13: NE South 1st Place: Was 22)
They got foiled at this spot last season. If they get past KG, they will be an underdog in said second match-up – but they have the talent to make it to Battle Bowl
Usual Suspects (362 / 13: PA South 2nd Place: Was 23)
IF they get past X-It Woundz, then they have a legit chance to be bowling in August. That's a HUMONGOUS IF though.
Menace II Society (355 / 13: Queen City 2nd Place: Was 25)
We have a VERY ANGRY MIIS squad who needs 2 more wins to join Nick Christy at Battle Bowl. MIIS SMASH.
Magna Carta (330 /13: DMV South 2nd Place: Was 26)
Now the fun – or problems – begin.
Secret Invasion (338 / 13: Metro 2nd Place: Was 32)
A few years ago the Metro was the worst district in the Atlantic. Now they had a team represent Battle Bowl last year and 3 teams still in the playoffs this year. Nice job.
Hot Pockets (318 / 13: DMV Central 2nd Place: Was 34)
They need to start hot out of the gate or they will be eaten. With or without ketchup.
Nation of Domination (344 / 13: NJ South 3rd Place Was 35)
We got the good NOD last weekend. They have to stay like that because they get DGF this weekend.
International Flavors (327 / 13: NJNE 2nd Place: Was 36)
They have a serviceable scratch squad but the handicap teams are the killers. Can they use that strategy to get past Bulletproof?
Impact (330 / 13: DMV Central 1st Place: Was 37)
The run back to Delaware starts now for them. Can they regain that intensity that they don't have yet?
Lane Crashers (328 / 13: Brooklyn/Queens 2nd place: Was 41)
That was a good bounce-back for them, They need two more of those.
DC Mafia (321 / 13): DMV South 4th Place: Was 43)
The Mafia need to get back some of their mojo or they will be sleeping with the fishes quite early.
Royal Flush (332 / 13: Long Island 2nd Place: Was 45)
No more Long Island Legends to worry about. They only have to deal with the #1 seed instead. Will we get the same Royal Flush as last year or will there be a changing of the guard?
High Powered (322 / 13: DMV South 3rd Place: Was 46)
They have a very winnable match coming up, then…Outrageous upset? Maybe?
Killerz Grip (327 / 13: Long Island 3rd place: Was 49): The fun time between myself and Killerz Grip will continue, but one thing I will say – if there's any team that can make a Cinderella run, it's going to be them.
Apex Predators (296 / 13: DMV North 2nd Place: NEW)
Congratulations Apex! For your reward by beating the Wolfpack, you get…Outrage. Hope you brought the big ass artilery.
Immortals (324 / 13: Sandhills 4th Place: NEW)
They get this spot by knocking out the Hitmen. Can they get further? Well if they knocked out the Hitmen, why not?
High Caliber (321 / 13: Deep South 2nd Place: NEW)
Before people gripe 'well High Caliber defeated a higher seed. Why are they under the Immortals?' Because the Immortals took care of a team with an undefeated regular season and a Battle Bowl semi-final spot last season, while High Caliber beat a team that lost in the first round and has major issues getting past the second round in the playoffs. Sorry, not sorry.
Hills Have Eyes (310 / 13: PA South 4th Place: NEW)
They did well by getting this far. Can they get past the defending champs?
City Morgue (298 / 13: Metro 5th place: NEW)
Do I think they are better than the last team left in the playoffs? Honestly, I do. That being said, they seem to thrive when they feel I disrespect them, so I'm putting some disrespect on your name. Now bowl well.
Secret Society (379 / 13: PA South 1st Place: Was 1)
I said going in that the Society getting DGF out of the gates was a bad draw. Well, it was.
The Arsenal (366 / 13: NJNE 1st Place: Was 2)
They got outgunned by one of the biggest guns in the playoffs. No shame in losing that way.
High Octane (380 / 13: Sandhills 1st Place: Was 4)
However, losing the way that they did…ouch. They have to figure out how to get over than game #1 hump.
Identity Crisis (342 / 12: New England North 1st Place: Was 7)
This was far and away their best chance to make it very far and they fell short. They need to rebound next season.
Long Island Legends (364 / 13: Long Island 1st Place: Was 12)
I get e-mail part one: So I get complaints asking why I ranked them third in their district below 2 teams they beat during the regular season. Well, those two teams are still in the playoffs and you're not, so that's why.
Team Matrix (342 / 12: NJ Shore 1st Place: Was 13)
They also had a very bad draw. Perhaps a purple beanie-wearing person could have helped talk trash for the cause if he was there?
Hitmen (364 / 13: Capital 1st place: Was 14)
I get e-mails part 2. I was told that because I said the stats said that they were in for a potentially quick exit, that they should be 500-1. I probably should have listened to them.
All In! (320 / 13: PA North 1st Place: Was 15)
It wasn't the lanes fault. Unless they purposely helped the other team to carry, in which case it was the lanes fault. Bad lanes. Bad, bad lanes.
Carolina Swag (354 / 13: Triad 2nd place: Was 16)
Menace had more in the tank than Swag did. And they needed Brad Kurth.
D.I.L.L.I.G.A.F. (346 / 13: Queen City 2nd Place: was 24)
I wasn't expecting them to come out on the losing end of that sort of match, but that's what happened.
High Voltage (310 / 13: Capital 3rd Place: Was 28)
Power outage at the worst possible time.
Beast Squad (361 / 13: Sandhills 2nd Place: Was 29)
Last time out I said 'The late sputtering down the stretch costs them a bunch of money'. They weren't able to turn it around, so they lost more money in the playoffs.
Conspiracy Theory (322 / 13: Triad 3rd Place: Was 30)
Despite the loss, they still had a really nice season.
Toms River Rats (339 / 13: NJ Shore 2nd Place: Was 31)
This actually goes back to the loss against Team Matrix, because I think if they won that, they aren't against Nation of Domaination and they are still in the playoffs. Every point matters.
Total Chaos (337 / 13: Inner Coastal 2nd Place: Was 33)
Wrong time of the year to be dealing with total chaos. An end of the season slump ends their season.
Wrecking Crew (330 / 13: Brooklyn/Queens: 1st Place: Was 38)
Cheradyn Paredes R.I.P. Thoughts and prayers go out to the Paredes family.
Outkasts (319 / 13: Capital 2nd Place / Was 39)
If it makes them feel any better, they get to commiserate with the rest of the Capital District because they are all out. It probably doesn't make them feel any better.
Total Mayhem (301 / 13: NJNE 3rd Place / Was 40)
Despite the loss, they finally make the playoffs and get to stay in the Top 50 until next season. At that point they can build on that momentum.
NEXT FIVE IN: NONE
OUT (For Now): Rival Alliance, AC Express, Striking Vipers, Hell Yeah, Project Mayhem