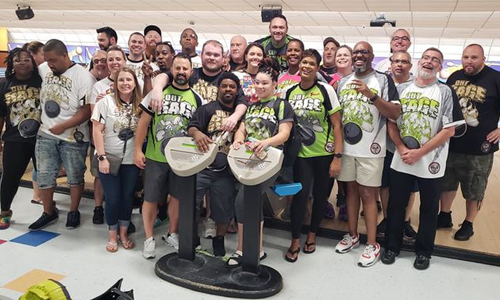 As we get to business in April, let's see what this weekend holds…
DMV Interconference: Impact Vs. Outrage – Perry Hall – The Best in the North takes on the best in the Central in a potential playoff preview.
DMV South: Str8 Bizness Cartel vs. Lethal Njection: The first placed team is looking to make some spacing away from the rest of the District. Can they accomplish this?
World Championship Series Uncapped Tag Team Titles: Class aXe (Brian Walton/ Chris Fawcett) vs. The Arsenal (Audrey Snell/ Nick Gavron) – 10am Lodi Lanes – Walton and Fawcett have to defend the titles against Snell and Gavron – in Snell and Gavron's house. Will they be ablw to hold onto it or will this be the start of title reign #2 for the Arsenal?
Cruiserweight Title Match: Cruiserweight Title Match: 
Champion: Alfred Collins (Da Royalty) vs. Matthew Gebhardt (KAEA) – Gebhardt is looking to be the third UBA Bowler to hold both a Cruiserweight and a Tag Tea title at the same time. Collins is trying to stop him and in the process potentially have two champions names Collins at the same time. Who gets to fulfill their objective?
Season Brawls: There's a few set to go off this weekend. How many teams will be punching their ticket to Battle Bowl and which teams will they be?