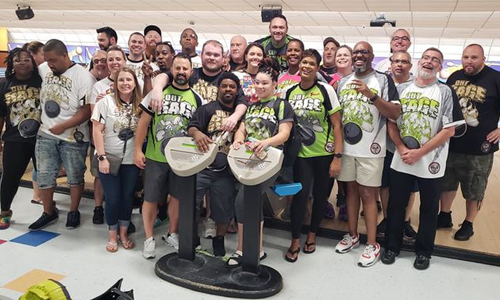 Welcome to the Top 50! This is the part where you're really happy, or – and this is the usual response – you wish to get motivated. Just a reminder – three of the 4 semi-finalists had the #1 at some point of the year (and the other one got to #5) so I sort of know what I'm talking about. Sometimes. But please have fun. And as for my prerequisites…
Style points count.
Keep in mind that with over 200 teams competing (with an increase of teams) this season, this list represents less than the top 25% of the UBA. If you're on here, consider that some kudos.
If you're not in the Top 4 in your district, you're not here. That means we're getting a lot of movement early.
This is for fun. Don't get salty, get motivated.
Yes, I know there's districts with byes. And yes, if it's a close race, sometimes teams will fall out due to said byes. I learned my lesson last year when teams with byes complained about that. When I decided to be nice and rewarded teams with extra spots, said teams didn't make the playoffs because they didn't get the points needed when the teams over them had byes and I looked like more of a moron than usual. This season, if you try to use that argument, I will just mention that Nice is a city in France and send you on your way. Deal with it.
If you win a Season Brawl for it all and you're not in a playoff spot, you still don't make the list. Do better.
I love all feedback, so keep it coming 🙂
So here we go with this week's rankings….
CURRENT PLAY NOTES: March Results, Battle Bowl Results and Brawl Results all play a part in this segment's Rankings
Outrage (260 / 9: DMV North 1st Place: Was 3)
Outrage has won a Brawl For It All and has made their presence known at Megabowl. They are exactly where they want to be at this point.
The Arsenal (260 / 9: NJNE 1st Place: Was 2)
Impressive, but they don't have a Season Brawl win nor Megabowl presence, something that Outrage does. Hence, they stay put.
Menace II Society (232 / 8: Queen City 1st Place: Was 9)
They move up a spot due to their Season Tour win and Pocket Kings' loss.
Identity Crisis (308 / 11: New England North 1st Place: Was 6)
I know a team in the New England North is not going to go to Megabowl but…(shrugs)
Murder Inc. (163 / 6: NWNJ 3rd Place: Was 7)
They not only took out The Pocket Kingz, but they are within range once the Kingz have to take their bye. Very good segment for Murder Inc.
Secret Society (283 / 10: PA South 2nd Place Was 8)
They did pick up an impressive win. Maybe did not overtake first but there'a a huge gap between them and third.
Hitmen (254 / 9: Capital 1st place: Was 15)
Last time this was aired, this came before the Hitmen won 34-6, took first place back in the Capital and won two chips at Megabowl. And while some people took offense with me on the air saying they had at least 3 losses (just a reminder that Team Rankings count), I'm wondering maybe if I should keep annoying them, so they can produce better results for their sake.
X-It Woundz (170 / 7: NJNW 2nd Place: Was 16)
30-10 win? Check. Season Brawl Victory? Check. Unholy Alliance win at Megabowl? Check. Thorn to be dealt with in the playoffs? Super check.
Carolina Swag (262 / 9: Triad 1st place: Was 14)
Getting VERY close to clinching a playoff spot in the Triad while they have a 16 point lead over second. By the way, they won 2 chips at Megabowl. Who saw this one coming?
Beast Squad (239 / 8: Sandhills 1st Place: Was 27)
They are in first AND have taken the bye. Can they withstand the charge of High Octane?
High Octane (232 / 8: Sandhills 3rd Place: Was 10)
So a Top 10 Team is in third because they took their bye (while Synergy hasn't) and Beast Squad has been putting up gaudy numbers. They will meet up soon enough. Again.
Beach Brawlers (238 / 9: Inner Coastal T-1st Place: was 11)
30 points is usually good for some breathing room but it did them no favors. Last season, the TOp 10 was full of teams with significant gaps verses their pursuers but not this year.
Total Chaos (208 / 8: Inner Coastal T-1st Place: was 12)
Make that 130-30 for the past 4 matches but they can't get themselves out of the tie against the Beach Brawlers. Maybe next tour stop?
Team Matrix (268 / 10: NJ Shore 1st Place: Was 17)
Sure they won, but other teams were more impressive, so they don't jump up as much as other teams.
The Fury (260 / 9: NE South 1st Place: Was 18)
Another win keeps them building up space in the NE South. When do we see them in other things besides Tour Stops?
Pocket Kingz (191 / 7: NJNW – 1st Place: Was 1)
Going undefeated was nice while it lasted. Now they need to fight to remain in second.
Class aXe (262 / 8: Metro 1st Place: Was 26)
70-10 for the past 2 tour stops gives them a very healthy 42 point lead in the Metro North. They could have had more, but they did not have fun at Megabowl.
Usual Suspects (286 / 10: PA South 1st Place: Was 36)
A 32-8 win keeps them holding on against Secret Society and increasing their lead over everyone else. Another trip to the playoffs seems inevitable.
New World Order (246 / 9: Triad 2nd place: Was 6)
Losing two of the last 3 tour stops and not doing much at Megabowl should be cause for concern.
Nation of Domination (234 / 8: NJ South 1st Place Was 20)
They had a few weeks off, so no dominating for them.
High Voltage (238 / 9: Capital 2nd Place: Was 31)
Now on a 5 Tour Stop winning streak, which jumps them to second in the Capital. Who's circling their match against Hitmen?
Outkasts (235 / 9: Capital 3rd Place / Was 9)
Not only do they lose first place to the Hitmen, the 8 points drop them to third. They have a juicy lead over everyone else, so not much to worry about. Yet.
Magna Carta (226 / 9: DMV South 2nd Place: Was 21)
They were too busy signing the Magna Carta to worry about participating in any tour stops for the past few weeks.
Impact (240 / 9: DMV Central 1st Place: Was 24)
Top 20ish is nice, but that's not where they want to be at this point and they know it.
Lane Crashers (242 / 9: Brooklyn/Queens 1st place: Was 33)
They got a 30-10 victory, so they have a little bit of wiggle room. Time to breath easy. Maybe take one of those mango margaritas that Andre Welbon is slurping on.
Spartanberg Savages (224 / 9: Deep South 1st Place: Was 23)
They have sort of taken control of the Deep South, if you consider an 8 point lead 'taking control'. Still they are in charge of their own destiny…though so is everyone else because 52 points separates first from tenth. Ok, I'll shut up now.
M.O.P. Nation Militia (248 / 11: New England North 2nd Place: Was 39)
The Season Brawl victory entails that they will return to Battle Bowl. Now if they do what they did last year, they will take part in more than one major event.
Toms River Rats (234 / 9: NJ Shore 2nd Place: Was 40)
The Rats got to sneak up on some teams last season en route to a nice post-season run. They aren't surprising anyone this season.
Conspiracy Theory (230 / 9: Triad 3rd Place: Was 32)
They got a well-needed win here, but they have a lot of work to do to challenge the front-runners – or they will need a team or two to do the work for them.
Synergy (237 / 9: Sandhills 2nd Place: Was 28)
They did win BUT it was 22-18. They did take a piece of Megabowl but they let Beast Squad jump them (which means when they take their blind they will lose ground to them and High Octane, which will probably jump them to third place).
D.I.L.L.I.G.A.F. (212 / 8: Queen City 2nd Place: was 22)
So they got a seat at the Season Brawl, but the 14 point stinker they laid before that means that they could have a quick exit at said brawl. So we'll call this a draw.
Str8 Bizness Cartel (239 / 9: DMV South 1st Place: Was 25)
They were doing business outside of the cartel.
Secret Invasion (208 / 8: Metro 3rd Place: Was 13)
Only taking 2 points to take their first loss and lose any shot of catching first place with their bye is saying that 'that was a bad loss' = the equivalent of saying that Florence Pugh's Valentino's Bike Short dress at the 2023 Academy Awards was only slightly hideous.
Reaper Crew (215 / 9: NJ Shore 3rd Place: Was 41)
Far away from first, but 2 straight tour stop wins means that they are solidifying their playoff position.
All In! (248 / 10: PA North 1st Place: Was 19)
Jonathan Dansbury's title match better not look anything like their 28-12 loss. Yick.
N.W.O. Wolfpack (218 / 9: DMV Central 2nd Place: Was 29)
They stayed put in the standings, so they stay put here too.
Rival Alliance (224 / 9: PA South 3rd Place: NEW)
This is how winning a Season Brawl for All helps your rankings, especially when you were this close getting in before obtaining the Brawl chip.
DC Mafia (200 / 9): DMV South 4thPlace: NEW)
Based on what they did last season, I'm surprised it took them this long to join the party this season. That being said, they could be ready to roll, especially as they just won a Season Brawl for All spot.
Royal Flush (222 / 9: Long Island T-1st Place: Was 34)
Sooooo close to getting a Brawl for All spot. Maybe next time.
Long Island Legends (222 / 9: Long Island T-1st Place: Was 35)
Still tied with Royal Flush with standings spot (1st) and number of Brawl for All wins (0)
Train Wreck (206 / 9: NJ Shore 4th Place: Was 49)
They got a desperately needed win, which gives them a 23 point lead over 5th place.
JustUs League (227 / 10: Brooklyn/Queens 4th Place: Was 50)
Like Train Wreck, they got a huge win this past time out. They still have a ton of work to do to protect their existence.
Striking Vipers (223 / 9 Inner Coastal: 3rd Place Was 36)
They are back on the winning side, but a lot of teams around them did so much more than what they did.
Hot Pockets (209 / 9: DMV Central 3rd Place: Was 37)
See Vipers, Striking.
Latino All-Stars (222 / 9: NJNE 2nd Place Was 38)
Sleepy time in the non-moving NJNE Yawwwwnnnnn….
International Flavors (212 / 9: NJNE 3rd Place Was 43)
ZZZZZZzzzzz
Mill City Mayhem (234 / 10: New England North 3rd Place: Was 45)
Rock a bye baby, on the tree top. Sleeping with everyone else.
Dysfunctional Bowlers (209 / 9: NJNE 4th Place Was 47)
When the wind blows the cradle will rock of ages.
Suicide Squad (200 / 8: Long Island 4th Place: Was 4)
If they lose this weekend, their bow will break and the cradle will come crashing down on their heads.
High Powered (220 / 9: DMV South 3rd Place: NEW)
The only reason why they are ranked lower than DC Mafia is because of what they did last year and the fact that High Powered doesn't have that same experience. Bias? Yes. Get angry and keep on winning.
NEXT FIVE IN: Hell Yeah, APEX Predators, Bulletproof, Voodoo, DHS
OUT (For Now): Wasted Potential, Rollin' Rebels, Doverama Dawg Pound