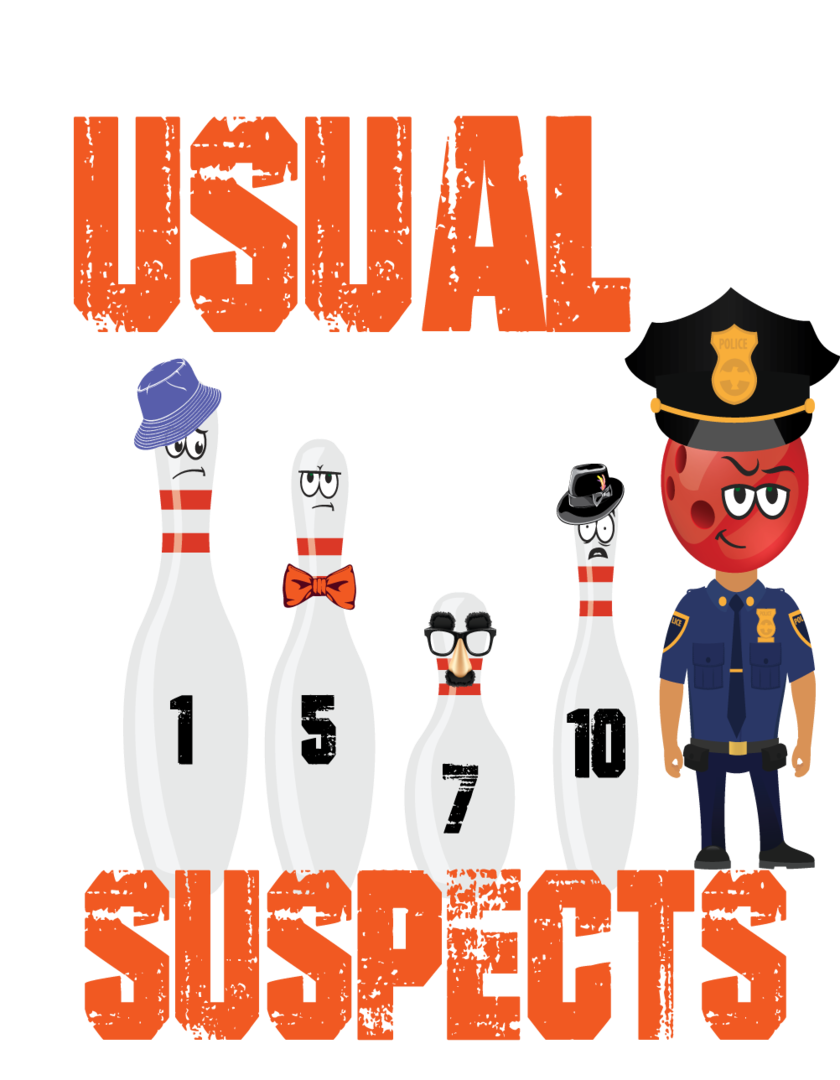 It's the first interdistrict between North PA and South PA and the reuslts are…ummm…interesting. Let's get to it.
Usual Suspects: 38, Mercer Mayhem: 2
The Usual Suspects didn't lose miserably, as they get a 300/299/832 from Cole Norris, a 746 from Brian McGrath and a 745 from Odell Jones as they take over first in the PA South. Mercer Mayhem fall flat as they get blown out by 718 pins.
Kingsmen: 32, All In!: 18
All In! loses the wood by 12 so they are Al Out on the undefeated Tour Stop side. Quinton Davenport (713) and Robert Moran (707) lead the Kingsmen (who like Team Matrix, may have seen their own movie for motivation) to close to midpack. Jonathan Dansbury (737), Brian Strong (300/727) and Thomas Biscardi Jr (723) do what they can, but they lose because Strong's 300 in the last game was not a 314. Despite the loss, All In! remain in first – and they get help from the other district.
Showtime: 34, Smurf Nation: 6
This would be part of that 'help', as the Smurfs lose by 166 pins. Keith Perkins (748), James Morse (730), Devon Hudson (720) and Donald Suswell Jr (719) make a lot of hay for Showtime as they move into a tie for third. The Smurfs were in third – but they are now in fourth.
Voodoo: 30, Secret Society: 10
Usually Secret Society put up power scores – and they do it again with Don Pyle's 809 and Ken WIlliams / James Johnson's matching 707's. Secret Society is also good with support, and this is where they fail because everyone else shot a combined 490 pins below average. Voodoo provides enough support for Kyle Dempster's 780 to get the win. Secret Society right now is under .500. What's going on with them?
Philly Horsemen: 28, Mass Destruction: 12
The Horsemen take advantage of All In's defeat and make up some ground. Jamie Malcolm (753) and William Dahling (729) combine to win the first 2 trios by 253 pins as they move into second. Matt Grayauskie (300/742) and Jeff Schiller (721) do what they can for MD, but their support (a combined 371 pins under average) drops them out of the top 3.
Southampton Samurai: 28, Rival Alliance: 12
Remember when I said that sooner or later, Rival Alliance would fall out of first? It's sooner, as David Shirks 300/757 torches the now second placed Alliance, despite a 719 from Timothy Robinson Jr. and a 712 from Matt Helms. Can they survive their bye week to be within shooting distance of the lead?
South Jersey Strike Force: 36, Devastation Inc.: 4
Tyler Margolis (790) and Raymond Shoup (705) lead the SJSF to a 337 pin rout of Devastation, who falls to last. SJSF moves into a tie for third and seems to be finding their way after a slow start on the season.
Mid-County Wood Whackers: 32, The Chozen Ones: 8
Note to The Chozen Ones, if you're going to issue a challenge to Jonathan Dansbury and his team, you may not want to lose to a team that was 0-80 for the past 2 matches but have gotten off the schneid based on your last handicap team being blown out by 200 pins. Jody Morgan (711) and Dylan Bowes (707) get the Whackers back on the winning side. Robert Smith's 714 is not good enough as TCO falls to fifth.
Firefoxx: 28, Broad Street Bullies: 12
Firefoxx FINALLY gets a win! It may have taken a massive brain fart by the Bullies (Why in the world do you put a blind in a handicap spot???!!!?), but they win and are not the worst team in the PA area. Elijah Douglas Jr shoots a 750 for the Bullies, but they lose the match thanks to the unforgivable error of a blind placement.