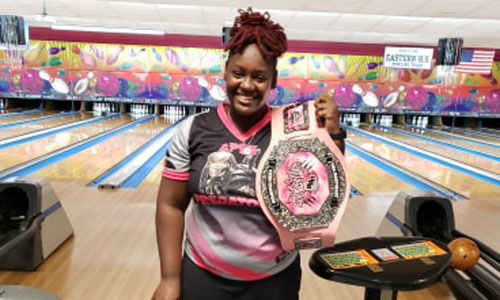 by Dr. Sagirah Wheeler

Times are changing! The announcement of the National Collegiate Athletic Association (NCAA) ruling changed the game for collegiate bowlers. These bowlers can now benefit from their likeness and provide a life (professionally, academically, and personally) that athletes before them could not!
What is the NCAA?
The National Collegiate Athletic Association (NCAA) is an organization that upholds the well-being and success of college athletes (NCAA, n.d.). The NCAA hosts over 1,090 colleges and universities and over 100 athletic conferences (NCCA, n.d.). The divisions are broken down into Division I, II, and III (NCAA, n.d.). Divisions are divided based on how institutions fund their athletic programs and attention and notoriety (NCAA, n.d.).
Division I institutions host the most students at the school, have the most prominent athletic department budgets, and provide the most generous scholarships to student-athletes (NCAA, n.d.). Institutions in the Division I bracket also have high academic standards across their 350 colleges and universities (NCAA, n.d.). Division I hosts more than 6,000 athletic teams and more than 170,000 student-athletes (NCAA, n.d.).
Division II hosts about 300 colleges and universities across 45 states and Canada (NCAA, n.d.). Student-athletes typically comprise a significant percentage of the study body at Division II institutions (NCAA, n.d.). Therefore, balancing as a student and athlete and campus and community involvement is essential to the Division II philosophy (NCAA, n.d.).
Division III hosts the most significant number of institutions and student-athletes, comprising 446 institutions and over 195,000 students (NCAA, n.d.). Division III does not award any athletic scholarship to ensure student-athletes succeed academically (NCAA, n.d.). This Division believes that students would balance their passion for the sport and pursue their academic interests (NCAA, n.d.).
These three divisions host more than 500,000 student-athletes across 19,880 teams (NCAA, n.d.). Members of the NCAA include college presidents, athletic directors, faculty athletic representatives, compliance officers, conference staff, academic support staff, coaches, sports information directors, and health and safety personnel (NCAA, n.d.). The NCAA committee members create and propose rules and policies around college sports (NCAA, n.d.). The committee members decide which laws to adopt and implement on every campus (NCAA, n.d.). These rules and regulations encompass scholarship requirements, sports regulations, rules, schedules, and how student-athletes and coaches should conduct themselves during all processes between recruiting and playing (NCAA, n.d.).
NCAA Benefits for Student-Athletes
The NCAA provides six pillars to provide support for college athletes. These six pillars are financial assistance, student-athlete voice, wellness and insurance, opportunities and experiences, academic services, and personal and professional development (NCAA, n.d.).
The NCAA can provide billions in scholarship money to student-athletes; many of the funds are guaranteed regardless of athletic performance or injury (NCAA, n.d.).
The NCAA provides a space for student-athletes to share their voices through advisor committees on campus, the conference, and the national level (NCAA, n.d.).
The NCAA promotes health and safety through research, training, drug testing, mental health, funding student-athlete insurance, and providing meal services (NCAA, n.d.).
The NCAA offers a way for student-athletes to experience opportunities through travel due to competition (NCAA, n.d.).
The NCAA also helps athletes succeed in the classroom through tutoring, access to academic advisors, and other programs for students to complete their degrees (NCAA, n.d.).
The NCAA offers student-athletes education and training programs to enhance their professional development, gain employment, and seek career advice and mentors (NCAA, n.d.).
The Sanity Code
In 1948, the NCAA passed the "Sanity Code," which explained that student-athletes could not be paid based on merit and must be paid based on financial need (Schwarz, 2015). In addition, there were no bonus payments or incentives that could be made. The only charges classified under a scholarship that could occur during active competition were tuition, fees, room, and meals (Schwarz, 2015). Eventually, the "Sanity Code" was overturned in 1951 (Schwarz, 2015).
Today, amateurism is a way to ensure and protect student-athletes. Amateurs are student-athletes regulated by a governing body and do not accept revenue for their athletic participation. Therefore, scholarships focused on the tuition, fees, room, and board that students need to succeed at the institution. Meanwhile, institutions are profiting a great deal of revenue from the student-athletes value in the community and athletic industry (Gilleran et al., 2013).
Fair Pay to Play
The Fair Pay to Play Act was passed in California in 2019 (McCann, 2019). This law meant that California schools could not fine student-athletes from gaining any compensation for using their names, images, and likeness (McCann, 2019). Additionally, student-athletes are approved to hire agents to secure media deals, endorsements, and opportunities (McCann, 2019). NCAA was clearly in conversation about this law and adopted this policy in June 2021 (NCAA, n.d.; Powell, 2021). The NCAA approved that student-athletes across all divisions can benefit from using their name, image, and likeness (NCAA, n.d.; Powell, 2021). This policy will be uniform across all institutions (NCAA, n.d.; Powell, 2021). The NCAA indicated that they would continue to work with local state governments on what this policy looks like for student-athletes and continue to assess what the permanent solution will be overall (NCAA, n.d.; Powell, 2021).
Collegiate Bowlers: What Does this Mean for You?
YOU CAN DEVELOP A BRAND! As a collegiate bowler, you can now get paid for your likeness. No more waiting to be an amateur adult athlete to build your brand. As a collegiate bowler or future collegiate bowler, you can use social media to draw attention to your game, talent, and brand. The typical 'recruiting video' no longer applies.
YOU CAN GET SPONSORED! As a collegiate bowler, you now have the opportunity to use your talents and followers to target sponsors. A company wants to invest in you to promote their business? Deal! A bowling ball company wants to sponsor you to push their product and invest in your talent? Deal! Collegiate bowlers now have opened the door to accepting various opportunities and resources.
YOU CAN GET PAID! As a collegiate bowler, you can now get paid and accept the money! The PBA has updated its rule regarding amateurs cashing to allow collegiate players to participate and cash in PBA events (Laufer, 2021). The same updates have been made with the United States Bowling Congress (USBC) regarding the regulations and rules for collegiate bowlers. While active collegiate players cannot become members of the PBA, they have the opportunity to cash in as many events as they participate and place in (Laufer, 2021).
The changes mentioned above have opened a door for collegiate bowlers that was not previously available. As a former collegiate bowler, it is time for bowlers to take advantage of these opportunities, as other collegiate athletes within basketball and football have been doing! Additionally, these ruling changes may possibly open the door for increased promotion and visibility into the sport of bowling. Especially with social media and influencer following, we have an avenue to promote the sport, its benefits and resources, and the organizations supporting bowlers to those in the industry and the general public.
Important Note: As always, please make sure to research and follow all guidelines provided by your institution, the NCAA, and the USBC regarding eligibility and regulations around this ruling. However, the sky is the limit. Take advantage of the opportunity to create a brand, accept sponsorship, and get paid while doing the sport you love!
References
NCAA (n.d.) NCAA adopts interim name, image and likeness policy. NCAA. https://www.ncaa.org/about/resources/media-center/news/ncaa-adopts-interim-name-image-and-likeness-policy
NCAA (n.d.). What is the NCAA? NCAA. https://www.ncaa.org/about/resources/media-center/ncaa-101/what-ncaa
Gilleran, M., Katz, R., & Vaughn, I. (2013, July 15). Should college athletes be paid? Institute of Sports Law and Ethics, Santa Clara University. https://law.scu.edu/sports-law/should-college-athletes-be-paid/
Schwarz, A. (2015, August 29). The NCAA has always paid players; Now it's just harder to pretend they don't. Deadspin. https://deadspin.com/the-ncaa-has-always-paid-players-now-its-just-harder-t-1727419062
McCann, M. (2019, September 30). What's next after California signs game changer fait pay to play act into law? Sports Illustrated. https://www.si.com/college/2019/09/30/fair-pay-to-play-act-law-ncaa-california-pac-12
Powell, T. B. (2021, July 1). College athletes can earn money from their name, image and likeness, NCAA rules. CBS News. https://www.cbsnews.com/news/ncaa-rules-college-athletes-get-paid-name-image-likeness/
Laufer, J. (2021, October 1). PBA modifies amateur cash rule for active collegiate bowlers. PBA. https://www.pba.com/2021/october/pba-modifies-amateur-cash-rule-active-collegiate-bowlers