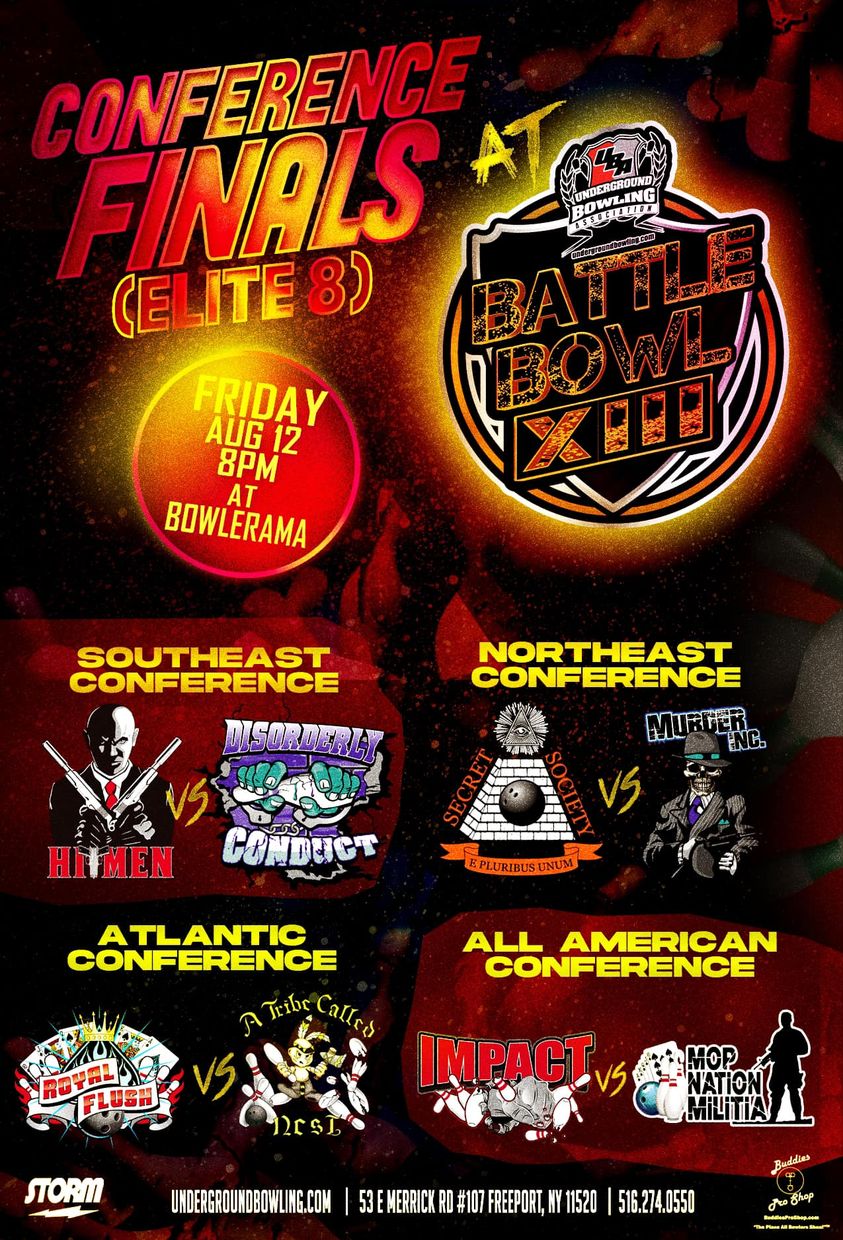 By now, you all know who is in the Elite 8, but you may not know that much about them. Here's your guide for all 8 teams and some thoughts on how any of those teams may win – or lose – Battle Bowl.
(Teams listed in alphabetical order)
___________________________________________
DISORDERLY CONDUCT (Southeastern Conference / Triad District)
How they got here: Def. G.O.A.T. 24-16, Def. New World Order 30-10, Def. The Militia 34-16, Def. Rollin' Rebels 28-12.
Key Players: For the most part, Kenneth Dich, Bryson Rose and Matthew Verdon have represented the scratch side, while Todd Rose Jr., Scott Smith, Paul Hamilton and Joshua Barricks have spent quality time in the handicap section.
Why they are in Battle Bowl: Their scratch teams have put the other side away and the handicap squads have exploited teams that have struggled and made them pay for it. There's not one specific section that's been consistently great, but there's always one squad that steps up, which is the epitome of a team effort.
Why they will win The Wilder Cup: This 4th seeded Cinderella team has found ways to win, and the talent has taken them to 4 wins. There's no reason why they can't achieve this three more times.
Why they won't: Eventually they could run into a team that won't have any issues that DC can take advantage of. Against a Hitmen squad that has had an undefeated run so far, the clock may turn midnight.
___________________________________________
HITMEN (Southeast Conference / Capital District)
How they got here: Def. The Risen 30-10, Def. Slayers 26-14, Def. Natural Disaster 32-8, Def. Complete Anarchy 30-10
Key Players: The Hitmen are loaded with competitors who have touched gold in the World Championship Series, including Nicholas Cenzoprano, Rudy Brantley, and former Southeast Heavyweight Champion Bob Benton. Don't forget Anna Groce and Daniel Turner. And that doesn't include President Kevin Decker, who didn't bowl the last two rounds – nor did he need to.
Why they are in Battle Bowl: They haven't lost a single match in Tour Stop play the whole season, and while they got an early scare in round 2 of the playoffs, they have looked like the best team in the UBA since September.
Why they will win The Wilder Cup: They have so many ways to beat you, and they will continue to find the winning formula during the weekend to complete the undefeated season.
Why they won't: While they have dominated the Southeast, most of the Hitmen haven't seen the big lights at Battle Bowl. They could be done in by the lack of experience or the belief that they have already won the title and overlook a team that puts their own hit out – successfully.
___________________________________________

IMPACT (All-American Conference / DMV North)
How they got here: Def. Hot Pockets 30-10, Def. Most Wanted 29-11, Def. DC Mafia 30-10
Key Players: Dominick Snyder, Pera Limtrakul, and Anthony Bonnell Jr. have gone a combined 26-4 in the playoffs for the scratch squad. Paige Martin, Scott Rehm, and Brandon Taylor have been causing havoc on the handicap side for Kirby Crawford's team.
Why they are in Battle Bowl: They have always been a talented squad, but this is the season that they finally put everything together (and avoided Outrage in the playoffs, though the way they bowled during their post-season run, it may not have mattered this time around).
Why they will win The Wilder Cup: While a number of their players have had success at Bowlerama (ie. Northeast Unholy Alliance), this is Impact's first team opportunity to grab the title. They will use their success at Bowlerama to take advantage of that.
Why they won't: They are a very emotional squad, and that could come back to bite them if they land on the struggle bus early. Live by the emotion, die by the emotion.
___________________________________________
M.O.P. NATION MILITIA (All-American Conference / NE North District)
How they got here: Def. Identity Crisis 32-8, Def. Reloaded 36-4, Def. Silver Lanes Express 30-10
Key Players: With a combined average of 753, Johnathan Van Hees, Stephen Dale Jr and Aaron Major are the highest scratch average set that are still in the playoffs. Tony Bennett, Brian Gaskill, Dan McCormick and Matthew Janas see serious playing time on the handicap side. And of course, let's not forget Joey Nereu, who is the straw that stirs the Militia's drink.
Why they are in Battle Bowl: 13 pins, which is the margin that they got past the Silver Lanes Express with. The fact that they won the first 2 matches by a combined 589 pins makes you wonder how they wound up as a #4 seed, but throw all of the regular season stuff out of the window – there are 8 teams left and M.O.P. is one of the 8.
Why they will win The Wilder Cup: This team is LOADED with brand names in the New England Area. If they can figure out how to play Bowlerama, then this will be the first team in the New England Division to win it all.
Why they won't: That's a BIG IF on the figure out how to play Bowlerama part, because most teams that show up from the NE area…ummm…stink in Delaware. There was a reason why Reloaded was listed at 10,000 to 1 odds last season, and that was justified after they didn't get out of the qualifiers. And MOP better figure it out soon – their next opponent, Impact, knows all about how to play the lanes.
___________________________________________
MURDER INC (Northeast Conference / Northwest New Jersey District)
How they got here: Def. Pocket Kingz 26-14, Def. Da Garden Foundation 32-8, Def. Kingsmen 30-10, Def. Bulletproof 29-11
Key Players: We could start with UBA Hall of Famer Quentin Collins, who manages the Scratch Squad with Daijon 'Mush' Smith and Chris Brigantino. Toss in Parkway Lanes Pro Shop owner Havel Wright into the mix, and while we're at it, mid-season transfers Idris Edmond (X-it Woundz) and Alex Vargas (Tribe Called Nest) and you get a very loaded UBA Franchise. We haven't even mentioned 5 time UBA Northeast Tag Team Champion Christopher Hedges and a multitude of plug and play handicap bowlers that Murder Inc. has.
Why they are in Battle Bowl: They got out of, arguably, the hardest District in the UBA, and ironically, once they advanced out of Round 2, the margins of victory have gone up.
Why they will win The Wilder Cup: Last year's Brawl For All got them to the semi-finals, and this year, they will complete the deal to win the Wilder Cup.
Why they won't: They are a powerful team, and if becomes a carry contest, then advantage them. BUT if it turns into a grinder, there are high-powered handicap teams out there that could foil Murder Season.
___________________________________________
ROYAL FLUSH (Atlantic Conference / Long Island District)
How they got here: Def. Long Island Legends 30-10, Def BC Crew 22-18, Def. BC Crew 28-12
Key Players: Michael Martell and Robert Calabrese are the heart and soul of the team. You can add Josh Schneidman, Greg Matera, Mattie Brandos and Bernard Purvis to the mix as well, but Martell and Calabrese run this squad.
Why they are in Battle Bowl: Savvy and experience, as well as using a handicap-laden set to counter a 'all-scratch' mentality. So far, the strategy has worked to perfection. Schneidman's 823 in Round 2 didn't hurt.
Why they will win The Wilder Cup: They continue to run that idea to the bank and the scratch team does what they have been doing this whole season, which is carry clutch hits when needed.
Why they won't: They need to string up a lot of strikes and Schneidman, Martell and Calabrese aren't enough to stem the tide.
___________________________________________
SECRET SOCIETY (Northeast Conference / PA South District)
How they got here: Def. Usual Suspects 28-12, Lost to Kingsmen 26-14, Won Wild Card, Def Class aXe 30-10, Def. Toms River Rats 30-10
Key Players: The scratch side is helmed by James K Johnson, Troy Lint and Michael Taylor. The Stones (Anthony and Leon) and Williams (Kenneth and Eddie) along with Chad May and William Ripley patrol the handicap side. There's a lot more pieces than that on this squad, but that's what they have gone with the past few rounds.
Why they are in Battle Bowl: They have done exactly what they have needed to do, which is defeat the teams in front of them. There's always one team that is the beneficiary of massive upsets, and after Round 1, they have bowled nothing but #4 seeds. And as the only team that took advantage of the Wild Card rule, they need to send Thank You cards to the UBA Playoff rules committee.
Why they will win The Wilder Cup: This team has made it to the Elite 8 before, and with the taste of both previous post-season play and Bowlerama under their hat, will ride that to the Wilder Cup.
Why they won't: Murder Inc. is the first team that they have to contend with that was a #1 seed going into the playoffs, and it could be Murdered Season early.
___________________________________________
TRIBE CALLED NEST (Atlantic Conference / Bronx District)
How they got here: Def. City Morgue 28-12, Def. Apocalypse 34-6, Def. Lightz Out 30-10
Key Players: This feels more like a Hounds of War Tribe Called Apocalypse, as they have made a lot of adjustments this season. Sure, they still have John Benitez, Carlos Rivera, Lenny Tweed, John Flynn and Big Red Machado. But imports Tommy Montilli III and Northeast Vixen's legend Robyn Buschini have bolstered their scratch side and Rudy Feliciano and Julio Hernandez have done the same on the handicap side. This squad is miles better now than where they were at this point last year.
Why they are in Battle Bowl: The new squad's toughness and veteran leadership have gotten them back into the Elite 8. Make no mistake about it – this is not really a third seeded team. This team should have ran away with the Bronx division and if it was not for a 'what the heck was that' mid-season slide, they would have. On a side note, who wants to see a semi-finals match with them Vs. Murder Inc. and ex-tribe mate Alex Vargas? (Raises Hand).
Why they will win The Wilder Cup: The first time Tribe got to the elite 8, it was with an 'Aw shucks, we're just happy to be there' aura. This is now a 'we're here to finish business' aura, and with their experience showing up, they could very well do so. This is a team that can combine both scratch and handicap prowess, and not many teams that are here can say that.
Why they won't: They still have the stigma of 'great in the Bronx District, awful against teams everywhere else' and tapped out early in Team Rankings against Killerz Grip. While they started to eliminate that issue against Lightz Out, they need to continue to get over that issue relatively quickly against Royal Flush.
___________________________________________