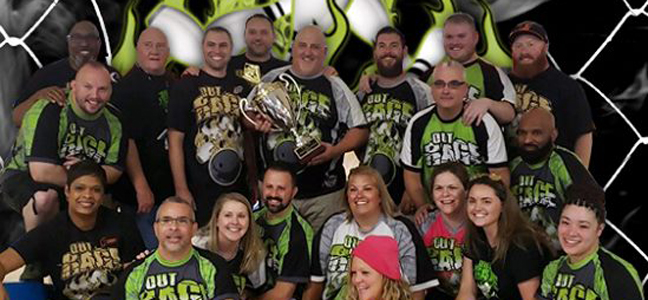 Welcome to the Top 50! This is the part where you're really happy, or – and this is the usual response – you wish to get motivated. Just a reminder – three of the 4 semi-finalists had the #1 at some point of the year (and the other one got to #5) so I sort of know what I'm talking about. Sometimes. But please have fun. And as for my prerequisites…
Style points count.
Keep in mind that with over 200 teams competing (with an increase of teams) this season, this list represents less than the top 25% of the UBA. If you're on here, consider that some kudos.
If you're not in the Top 4 in your district, you're not here. That means we're getting a lot of movement early.
This is for fun. Don't get salty, get motivated.
Yes, I know there's districts with byes. And yes, if it's a close race, sometimes teams will fall out due to said byes. I learned my lesson last year when teams with byes complained about that. When I decided to be nice and rewarded teams with extra spots, said teams didn't make the playoffs because they didn't get the points needed when the teams over them had byes and I looked like more of a moron than usual. This season, if you try to use that argument, I will just mention that Nice is a city in France and send you on your way. Deal with it.
If you win a Season Brawl for it all and you're not in a playoff spot, you still don't make the list. Do better.
I love all feedback, so keep it coming 🙂
So here we go with this week's rankings….
CURRENT PLAY NOTES: March Results, Battle Bowl Results and Brawl Results all play a part in this segment's Rankings
Outrage (286 / 10: DMV North 1st Place: Was 1)
Very impressive win over Impact. Thery have a 63 point lead over everyone else and it's only a matter of time until they clinch first in their district.
The Arsenal (294 / 10: NJNE 1st Place: Was 2)
They have a 40 point lead and should clinch at least a playoff spot by their next match. Seeing Audrey Snell and Nick Gavron recapture the Uncapped Tag Team titles helps.
Menace II Society (272 / 9: Queen City 1st Place: Was 3)
If not for what the Top 2 teams have done, MIIS would be jumping up based on their 40 piece win. Third is still good. For now.
Identity Crisis (342 / 12: New England North 1st Place: Was 4)
The first team to clinch their spot (albeit they are on Tour Stop #12 while everyone else isn't). They also won Season Brawl #39 so they will be at Battle Bowl in some shape or form.
Secret Society (283 / 10: PA South 2nd Place: Was 6)
I think a Top 5 spot will send a message that this team should be respected. Though I'll probably get grief that they aren't ranked higher (and some sort of nasty comment).
Hitmen (286 / 10: Capital 1st place: Was 7)
They have a 15 point lead and a win on the next Tour Stop will all but seal a playoff spot (though they could slide into one even if they don't win). This is the Hitmen Squad I was expecting to see all season.
X-It Woundz (202 / 8: NJNW 1st Place: Was 8)
FINALLY we get an X-It Woundz team that's in first place in the NJNW. Now can they hold on to it when they take their bye?
Carolina Swag (294 / 10: Triad 1st place: Was 9)
On one aspect, I want to say that this is the most improved team. On the other aspect, this team has always been really good (they have just been overshadowed by G.O.A.T.) so there really shouldn't be that much surprise at this point.
Beast Squad (269 / 9: Sandhills 1st Place: Was 10)
Here comes Beast Squad…
High Octane (268 / 8: Sandhills 2nd Place: Was 11)
…and as you can see by the numbers, here comes High Octane. They may both be high enough to get that first round bye, but boy it will be fun to see them battle each other with the district up for grabs.
Beach Brawlers (274 / 9: Inner Coastal 1st Place: was 12)
So winning 36-4 and moving into first place all by yourself is only good to move up one spot because (almost) everyone else has been winning. That's how tough it is starting to get up here.
Total Chaos (271 / 9: Inner Coastal 2nd Place: was 13)
Well they did get themselves out of the tie with the Beach Brawlers. However, they are 3 points behind, so they are behind in the Top 50 as well.
Team Matrix (304 / 11: NJ Shore 1st Place: Was 14)
It's a good thing that they won by many, because here comes that bye that they may have been worried about (though not so much now)
Class aXe (300 / 10: Metro 1st Place: Was 17)
They need 10 points in the next tour stop to clinch a playoff spot. Theoretically, they can go 0-120 for the last 3 tour stops and still probably clinch a spot (though there's no chance of them going 0-120).
Usual Suspects (320 / 11: PA South 1st Place: Was 18)
Sure they are getting wins, BUT they have to take their bye and they didn't separate themselves by enough points to stop Secret Society form jumping them if they have a nice match.
Str8 Bizness Cartel (279 / 10: DMV South 1st Place: Was 32)
That 40-0 sweep showed that they meant business. Can they continue their run?
Pocket Kingz (191 / 7: NJNW – 2nd Place: Was 16)
They got through their bye with minimal damage.
New World Order (284 / 10: Triad 2nd place: Was 19)
They righted their ship and are only 10 points away from C-Swag. Things are about to get swaggy in May.
Murder Inc. (179 / 7: NWNJ 3rd Place: Was 5)
To be fair, Da Garden Foundation needed that win more than Murder Inc. did. However, falling to third doesn't (usually) keep you in the Top Ten.
Outkasts (271 / 10: Capital 2nd Place / Was 22)
Though they fell out of first place 2 matches ago, bouncing back with a 36-4 win keeps them withint 15 of the Hitmen. Hence, it keeps them in the Top 20 conversation.
Magna Carta (262 /10: DMV South 2nd Place: Was 23)
Very nice win by Magna Carta gets them within shouting distance with SBC if they decide to have another loss.
Lane Crashers (280 / 10: Brooklyn/Queens 1st place: Was 25)
From worrying about making the playoffs to having a 10 point lead in their district. 2023 has been good to the 'Crashers.
Complete Anarchy (254 / 10: Deep South 1st Place NEW)
We FINALLY have someone that wants to take control of the Deep South. Maybe. Sort of.
The Fury (272 / 10: NE South 1st Place: Was 15)
They not only lose, but they lose with the bye coming up and the Express only 24 points back Could we be seeing a changing of the guard?
M.O.P. Nation Militia (282 / 12: New England North 2nd Place: Was 27)
Much stronger this season than last in terms of placements. How much did they learn at Battle Bowl last season?
Toms River Rats (265 / 10: NJ Shore 2nd Place: Was 28)
The Rats did get a win, but as Matrix got more than they did, they will need to grab ALL the points to move up to first place in the NJ Shore. Still, a win is a win.
Conspiracy Theory (258 / 10: Triad 3rd Place: Was 29)
The win is nice, and although it won't help them catch first, it will extend their lead over 5th place to almost 40 points. So they have a little bit of a cushion.
AC Express (238 / 9: NJ South 1st Place: Was 40)
Maybe they were taking the local this time around – or maybe the competition got better. Either way, they retook the same spot that they left at the end of last season.
Long Island Legends (260 / 9: Long Island T-1st Place: Was 35)
A very nice win gives them first place in their district. Long Island Vs. Brooklyn Queens coming up.
Nation of Domination (236 / 9: NJ South 3rd Place Was 20)
They took 2 more points than they did during their weeks off, which is me saying that they got dominated. Yipes.
Synergy (237 / 9: Sandhills 4th Place: Was 30)
Here comes the bye. There goes second and third place. Still, they have a 28 point between them and the Rebels.
D.I.L.L.I.G.A.F. (232 / 9: Queen City 2nd Place: was 31)
If youre going to go 12 and then a draw, now's the time to flounder around and not in the playoffs
High Voltage (250 / 10: Capital 3rd Place: Was 21)
Suffered a little bit of a power outage on that last tour stop.
Secret Invasion (236 / 9: Metro 2nd Place: Was 33)
Good enough to get close (but not quite) to first, but not in any immediate danger of falling out of a playoff spot. They are in UBA limbo.
Reaper Crew (245 / 10: NJ Shore 3rd Place: Was 34)
All 6 top teams in the NJ shore won during their last Tour Stop. Hence no chance to move up from third.
Impact (254 / 10: DMV Central 1st Place: Was 24)
They were looking to make a statement against Outrage, but Outrage was the one that did the talking by 3 pins. Ouch.
N.W.O. Wolfpack (246 / 10: DMV Central 2nd Place: Was 36)
And that plus the Wolfpack's wins puts the N.W.O. dangerously close to Impact – close than what Impact would probably like to see at this point of the season.
Rival Alliance (254 / 10: PA South 3rd Place: Was 37)
All Rival Alliance can do right now is to make sure they see the playoffs and hope they catch the same run that Secret Society did last season.
DC Mafia (236 / 10): DMV South 4th Place: Was 38)
Does the 36-4 win during the last tour stop mean that they are ready to roll into the playoffs?
Spartanberg Savages (236 / 10: Deep South 4th Place: Was 26)
The problem with a very tight Deep South race is that a bad loss will send you tumbling down the standings. 12 points would be a bad loss and they are now closer to elimination than first place.
Royal Flush (254 / 10: Long Island 2nd Place: Was 39)
They do get the win, but they do lose first place to Long Island Legends. And BYE the way, they still haven't taken their bye.
Train Wreck (239 / 10: NJ Shore 4th Place: Was 41)
Increased their lead over 5th from 23 points to 30. Still have a lot of work to do.
Voodoo (266 / 11 PA North: 1st Place NEW)
This could be just as much for their streak of winning as it is All In!'s current streak of losing.
Striking Vipers (256 / 10 Inner Coastal: 3rd Place Was 43)
Another win – another poll of them not going anywhere because there weren't many losses by anyone else.
All In! (260 / 11: PA North 1st Place: Was 35)
Did they peak a little too early? Jonathan Dansbury, who has a Heavyweight Title match this weekend, better hope not.
Hot Pockets (233 / 10: DMV Central 3rd Place: Was 44)
I like mine with a little butter, because they are too bland for me.
Latino All-Stars (254 / 10: NJNE 2nd Place Was 45)
Like a lot of the other teams, they won but not impressive and not good enough to let Arsenal take a 40 point lead on them.
International Flavors (246 / 10: NJNE 3rd Place Was 46)
I can xerox what I wrote for the All-Stars and plop it right here.
Dysfunctional Bowlers (237 / 10: NJNE 4th Place Was 48)
Maybe I can fax it instead of xerox it.
High Powered (254 / 10: DMV South 3rd Place: Was 50)
Let's look at this in 2 ways – 1. That you're winning but everyone else is also, so sorry or 2. why did it take you all so long to make a move now? Pick whatever choice you want to improve mileage.
NEXT FIVE IN: Hell Yeah, APEX Predators, Bulletproof, DHS, The Outsiders
OUT (For Now): JustUs League, Mill City Mayhem, Suicide Squad