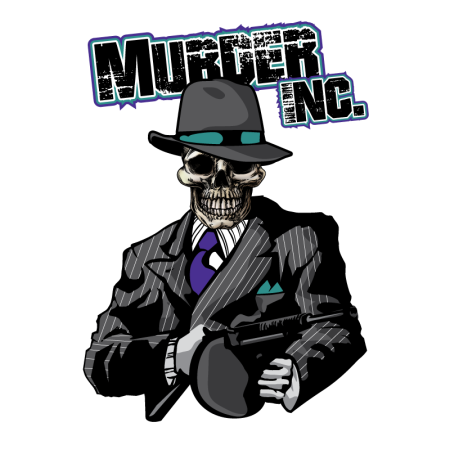 Welcome to the pre-season Top 50! This is the part where you're really happy, or – and this is the usual response – you wish to get motivated. Just a reminder – three of the 4 semi-finalists had the #1 at some point of the year (and the other one got to #5) so I sort of know what I'm talking about. Sometimes. But please have fun. And as for my prerequisites…
Style points count.
Keep in mind that with over 200 teams competing this season, this list represents less than the top 25% of the UBA. If you're on here, consider that some kudos.
This is for fun. Don't get salty, get motivated.
I love all feedback, so keep it coming 🙂
So here we go with this week's rankings….
CURRENT PLAY NOTE: Pre-season. Duh.
Murder Inc.
Well, they're the champs. Duh.
Royal Flush
Got to the finals in a crazy season. They won't be surprising anyone so they better get it together early.
Hitmen
They won everything…in the Southeast. Can they do it again?
Impact
I know some people are asking 'Why is this team up here?' They got to the semi-finals, so as of right now, that's where they are staying.
Tribe Called Nest


As I said during the tournament, they should have been here for awhile if not for the 'what was that'? segment of their season.
Disorderly Conduct
Like Royal Flush, they aren't sneaking up on anyone. They can make a run at G.O.A.T. for the Triad District.
MOP Nation Militia


What the tournament has shown us is 1. New England North > New England South and 2. If MOP gets to go back to Delaware, they need to bring 15 more bowling balls. Per person.
Secret Society
The question isn't how far they got in the playoffs. The questions should be – as loaded as they are (which they are), 'Why did they enter the tournament as a third seed?'. Better things are expected.
Reality Check
They know what they need to do to get further this season.
Lightz Out
You know, I made fun of the Bronx district as the group that didn't beat anyone else. They beat Lightz Out in the playoffs, which means that I don't know how long they are keeping this number.
DC Mafia
I expect them to be in the Top 5 this season.
BC Crew
They have some weaknesses, which were exploited in the playoffs. They are more than good enough to patch those up.
Bulletproof
I got whined at on why they were ranked lower than Da Garden Foundation when Bulletproof defeated DGF in the playoffs. That is a legitimate complaint, so you get moved up. Now don't take a donut during the first Tour Stop match, please.
Da Garden Foundation
You lost to Bulletproof. Enough said.
Complete Anarchy
I will listen to Ray Gillespie and his pre-season South Top 10.
Philly Horsemen
A VERY good season last year. Can they improve this year?
Most Wanted
Andre Welbon has them in his Top 10. I don't have them that high – for now.
Class aXe
Between them and Tribe, one of them should win the Metro this season.
High Octane
The question: Was last season a fluke or are they going to be a consistent first place team?
Beast Squad
If High Octane isn't, then they are.
Rollin' Rebels
Or they are.
G.O.A.T.
The early exit puts them here, but I'm pretty sure they will be moving up quickly.
Sub-Zero
If G.O.A.T. doesn't take advantage, then Sub-Zero will.
Spartanberg Savages
The Deep South got very crowded
Kryptonite
I don't think that this team should be that high, but…
Outrage
…They beat Outrage, and I can't really place them over Kryptonite because of that. That being said, I don't expect Outrage to be outside of the top 20 for too long.
D.I.L.L.I.G.A.F.
Why am I putting a brand new team in the Top 50? Because it has a former World Champion and a lot of other people who are really good.
AC Express
No NJ Drillers this year means a wide open lane for the teams that made the playoffs in the NJ South. AC Express is one of the beneficiaries.
Toms River Rats
They get their due – they made a nice playoff run. Can we take that same energy and display it in the regular season for mean Mr. Gordon please? Mr. Gordon is such a big meanie-head.
Team Matrix
I can't rank them higher than the team they lost to, but I expect them to move upwards.
The Arsenal
They added some pieces during the off-season, which makes them much more dangerous.
X-It Woundz
We'd like to welcome Robert Smith to the grind called the New Jersey Northwest.
Silver Lanes Express
Still trying to figure out if NE North is that good, NE South is that bad, or a combination.
New England Heat
I do know that the Heat will be dealing with the SLE as their new rivals.
The Militia
It's a topsy-turvy district. Right now, they are on the topsy side.
Legacy
How do they improve upon their season from last year? For starters, having a legal line-up so they don't take a zero during their first match would help.
Natural Disaster
They are here because of their season, but if they don't produce quickly, they won't be here for long.
Kingsmen
Will the Real Kingsmen please stand up?
Identity Crisis
The New England North is its own Identity Crisis.
Conspiracy Theory
How will moving to the Triad affect their season?
Rival Alliance
It wouldn't be a rivalry if I don't put them and Usual Suspects on the same line.
Usual Suspects
Like so.

Magna Carta
The prediction was they would be up and coming. Let's see how correct that is.
Apocalypse


They should do well in the Metro.
Hot Pockets
Are they really hot pockets? Or just flash in the pan pockets?
Pocket Kingz
If they are in any other district in the Northeast Conference, they would be favorites to win it outright. But they are in the NJNW, so…
Project Mayhem 
New York is wide open for them to make a move.
The Franchise 
Looked real strong during the first half of the season. Looked real shaky near the end. Consistency is a must have.
All In!
If you want respect, you need to not get knocked out of the second round and then whine about it later. That being said, they should move up quickly this season.
King's Court
They are here because of their record from last year but boy did they lose a lot of people during Opt Out.